Taxi in Vietnam. How not to be deceived and save
The main mode of transport for tourists in any country is a taxi. This is the easiest and safest way to get to your destination, although it is not always the cheapest.
In this article we will examine the main taxi companies, transfer and taxi prices in Vietnam using the example of Nha Trang (the most popular resort in this country), and also tell you how not to be deceived when traveling by taxi and pay an adequate price and even save money.
Types of Transport in Vietnam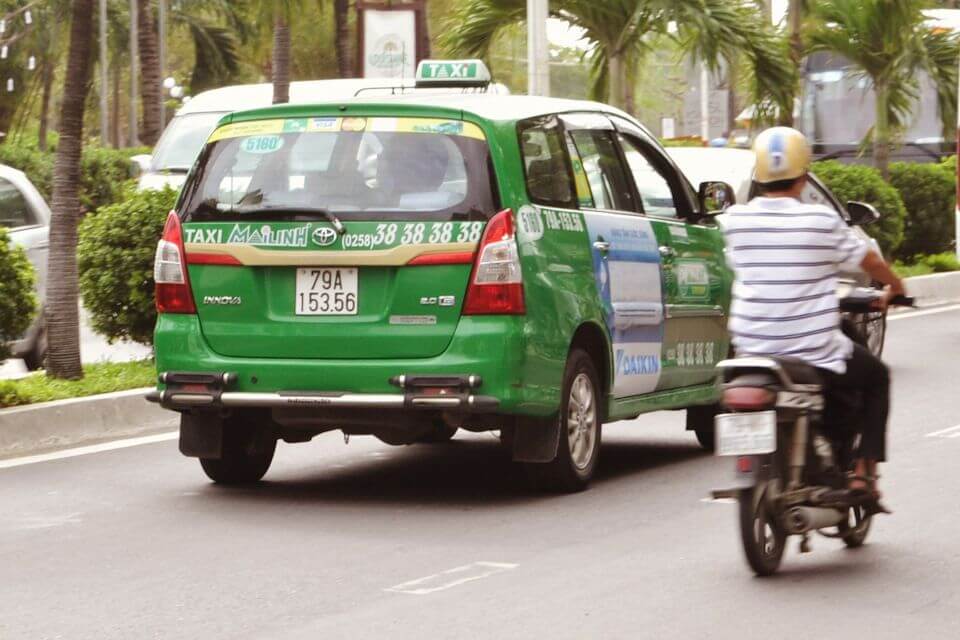 Arriving in Vietnam, the tourist tries to see all the interesting places and attractions in the shortest possible time for a small price. For this there is a huge choice of transport for every taste and color:
Buses;
car rentals;
taxi;
rickshaws.
Read more about each of them in the relevant articles on our website, and we will talk about a specific type of transport – a taxi.
How to order a taxi
Taxis are of two types:carandmotorcycle taxis. Car taxis are easily recognizable by the bright coloring. Each company has its own specific colors and identification marks. There is practically no difference between them, except for a small difference in price. About mototaxi we'll talk below.
So, if you need to get to some places of interest, but you have decided that the types of transport described above do not suit you, you can order a taxi in one of the following ways:
book in advance through the carrier's website (transfer);
call by phone;
book at the hotel;
stop on the road;
use the mobile application of Grab (an analogue of Uber in Vietnam)
We will talk about all these methods below, but first you need to figure out which main taxi companies operate in Vietnam and what rules should be followed when renting a taxi.
Popular Taxi Companies
Among the most popular and official companies are the following:
Company Name
Car's Color
Phone Number
Price
Photo
Vinasun
white and green, red font
+84-838-27 27 27
1 km 16500 dongs
Asia Taxi
bright yellow
(0258) 35-35-35-35
Seat - 7000 донгов
less than 30 km - 1 km 17000 dongs
more than 31 km - 1 km 11000 dongs

Mai Linh
green
(028) 38-38-38-38
1 km 10000 dongs
Quoc Te
silver
white and blue
(02583) 52-52-52
Seat - 7000
less than 30 km - 1 km 15500 dongs
с 31 km - 1 km 10000 dongs
It is worth noting that all prices are for reference only, because the cost of the trip will depend on several factors:
engine size;
number of seats;
car class;
from the city;
the number of kilometers traveled (the cost of 1 km depends on the length of the trip).

The largest companies are: Vinasun and Mailinh. All their cars are equipped with meters, and in most of them even pos-terminals are installed for receiving plastic cards.
Taxi Safety Rules
Frequently taxi drivers know English at the household level, therefore the language barrier should not arise, although it is better to have a translator at hand.
Tourists should be as attentive as possible, since deception is quite common.
Among the most common problems are:
"clones" of taxi companies.
theft and loss of baggage;
spinning the counter;
Clones
Important! Before getting into the car, you must carefully consider its appearance and identifying marks.
The problem is that some taxi drivers try to imitate famous carriers and change one or two letters in their names, for example, instead of Vinasun there is Vinason or Vinasum, and instead of Mai Linh you can meet Mei Linh and further along the same principle.
And this is how fake companies look like they are trying to make their logos and phone numbers as similar as possible so that an inattentive tourist cannot distinguish.
If possible, order a taxi at the hotel reception, inside the airport building or by phone. If this is not possible, then just be careful.
Theft and loss of baggage
Another common problem when traveling by taxi is the loss of luggage. Often (this happened to us), the driver suggests putting a small bag or bag with things in the trunk, and when leaving you just forget to pick it up from there. Of course, finding your items in this case will be quite difficult.
Tip:keep all your belongings with you when possible.
Another great habit that will help to avoid unnecessary problems, deception and, in which case, it is easy to recover lost things – to take a photo of a taxi from the inside during landing.
The photo above clearly shows the name of the carrier company, the taxi driver himself, his name and license number, prices, and the counter itself.
In case of something, you can easily identify the number of the taxi and the phone by which you can call and find out all the necessary information.
Trip cost and counter
Of course, there are counters in taxis, but it is very important for a tourist to learn how to determine the duration of the route and the final fare. To calculate the amount, you need the number, which is shown on the scoreboard, multiplied by 1 thousand. This will be the price of a trip to Dong.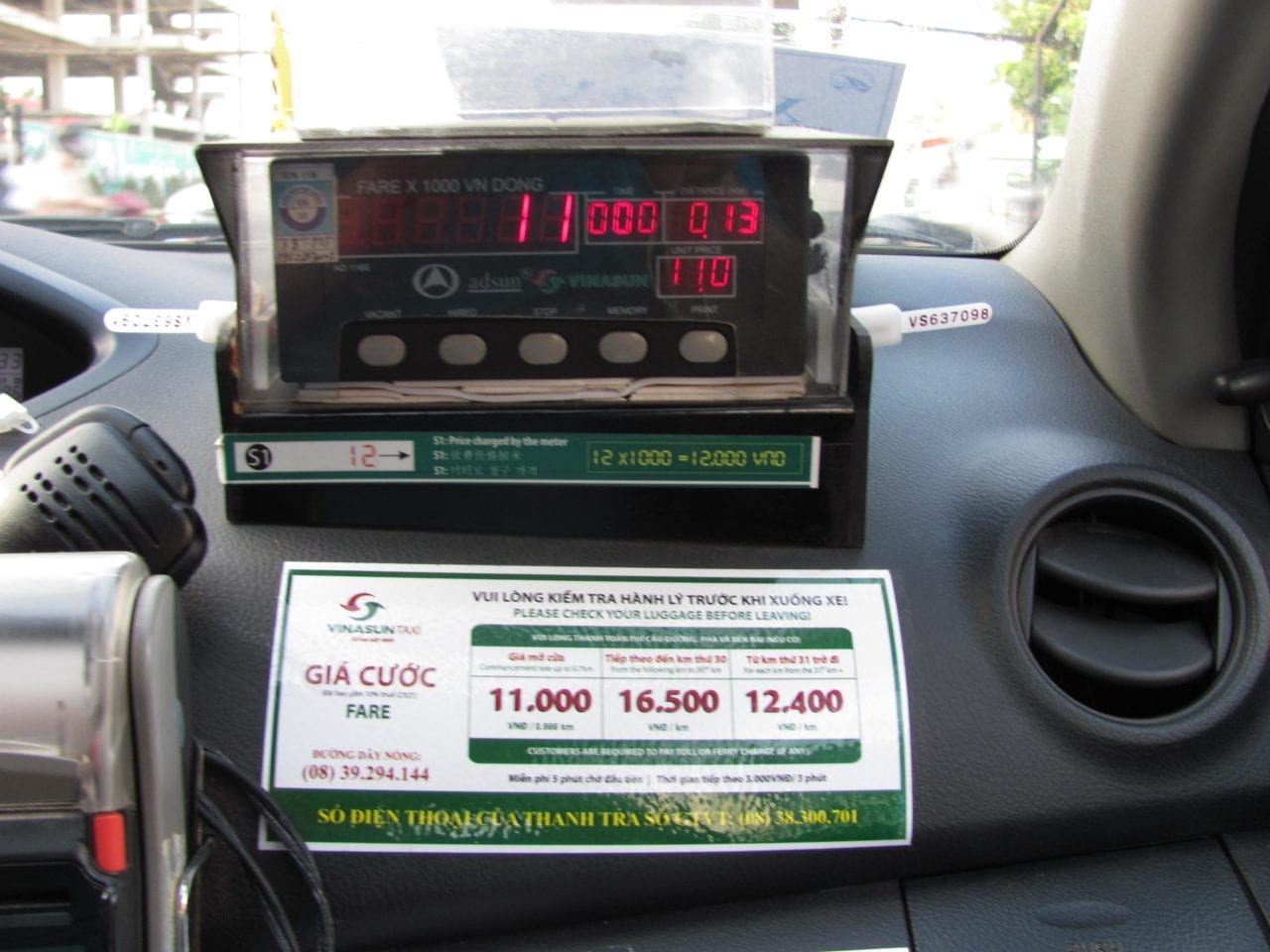 The second counter screen shows the number of kilometers traveled. At the time of landing the device must be reset to zero.The car's fee will be added automatically.
There is also a third screen where the cost of an additional service can be shown, for example, for a simple one (on average in 5 minutes from 3 to 6 thousand dong).
The final amount of fare will include several items:
car feed,
driving over the counter,
Additional services, if any.
Due to the fact that the first 30 km of roads are more expensive than the next ones, it is not always beneficial to take a taxi for short distances. The average price of landing can vary from 8 to 15 thousand dong. For 1 km to 30 km you will have to pay an average of 15-17 dong. From 31 kilometers the cost will be reduced and, depending on the carrier company, can vary between 9-14 thousand dong.
So, below we gave the approximate prices from the city center to the main attractions, so that you can orient yourself around and not be deceived.
| Sights (from Lotus) | Agerage Price for Car | Average price for Motorbike |
| --- | --- | --- |
| To Cho Dam Market | 30.000 | 15.000 |
| Xom Moi Markte | 30.000 | 15.000 |
| BigC Shopping Mall | 55.000 | 20.000 |
| Vinpearl cable car | 70.000 | 25.000 |
| South Islands Pier | 70.000 | 25.000 |
| North Islands Pier | 215.000 | 70.000 |
| Cam Ranh Airport | 300.000 | 150.000 |
| Cham Towers Po Nagar | 50.000 | 20.000 |
| Long Son Pagoda | 35.000 | 15.000 |
Airport Transfer
Normal cost, for example, from Cam Ranh Airport (Cam Ranh International Airport, CXR) to Nha Trang center – about 300,000 dong.
Important!The counter from the center of Nha Trang to the airport will be about 550 – 600 thousand dong. Therefore, immediately agree on a fixed price.
Getting into a taxi is only necessary for trusted companies. In no case can not go with those taxi drivers who are very intrusive (sometimes even shouting) offer their services.
For those who want to get directly from the airport to the most popular resorts, it's best to take a transfer.Among the positive things are the following:
security;
cost is known in advance;
card payment option;
security of personal items;
child seats are available.
The most trusted and reliable carrier company providing transfer services is considered to be Kiwi Taxi
For those who spare no time, but prefer to save, the cheapest way to get to / from the airport in Nha Trang is by bus number 18 (read more in article about buses).
Order Online
The method of ordering a taxi, which only a few years ago was in its infancy, and today it is wildly popular – mobile applications like Uber and Grab.
And although the official Vietnamese taxi has spent a lot of effort to ensure that the Uber mobile application ceases to exist in the country, the company is registered and operates officially, on an equal footing with other taxis.
We specifically compared prices when traveling by Vinasun taxi company and through the Grab app. A trip through a mobile application turned out to be more profitable in conditions of obstructed traffic and traffic jams.
Mototaxi
A unique service that can not be found on other continents, but which is mega popular in Asia – Mototaxi.
The cost of such a trip will differ two or even three times compared to a regular taxi.
For example: to get from Lotus to BigC shopping center you will have to pay 60-70 thousand dong for a car or 20 thousand dong for a motorbike.
To date, the most popular and only application to call a taxi and mototaxi in Vietnam is Grab. Until recently, Uber was present in Vietnam, but Grab closed them immediately after purchase.
Grab
Link to Android application: download.
Link to iOS app: download.
Discount up to 30,000 when registering with this link.
The principle of operation is quite simple: you specify from where and where you are going to go, the driver takes your order, comes for you, takes you to the place, pay in cash or by card.
Summary
Use official taxi companies. Only in this case, you can be confident in your safety, and the holiday will be filled with only pleasant emotions and will be remembered for a long time.
We tried to make out all the issues related to renting a taxi in Vietnam and all the pitfalls you may encounter. We hope our advice has been helpful.