Best Travel Camera Backpack: How to Choose One?
A camera backpack is a must-have for both professional photographers and general photographers too. For example, if you are an amateur photographer, you would benefit from one of these backpacks.
So, in this article, we will cover the qualifiers that make a backpack worth buying, review the best models on the market, and explain how to choose the model that fits you best.
What is a camera backpack?
A camera backpack is a carry case for a camera and all needed accessories that you can quickly strap onto your back and take with you wherever you go. A camera backpack is usually very well-cushioned and split into multiple sections inside, for the purpose of providing cushioned storage space for all the lenses, batteries, and the DSLR camera itself.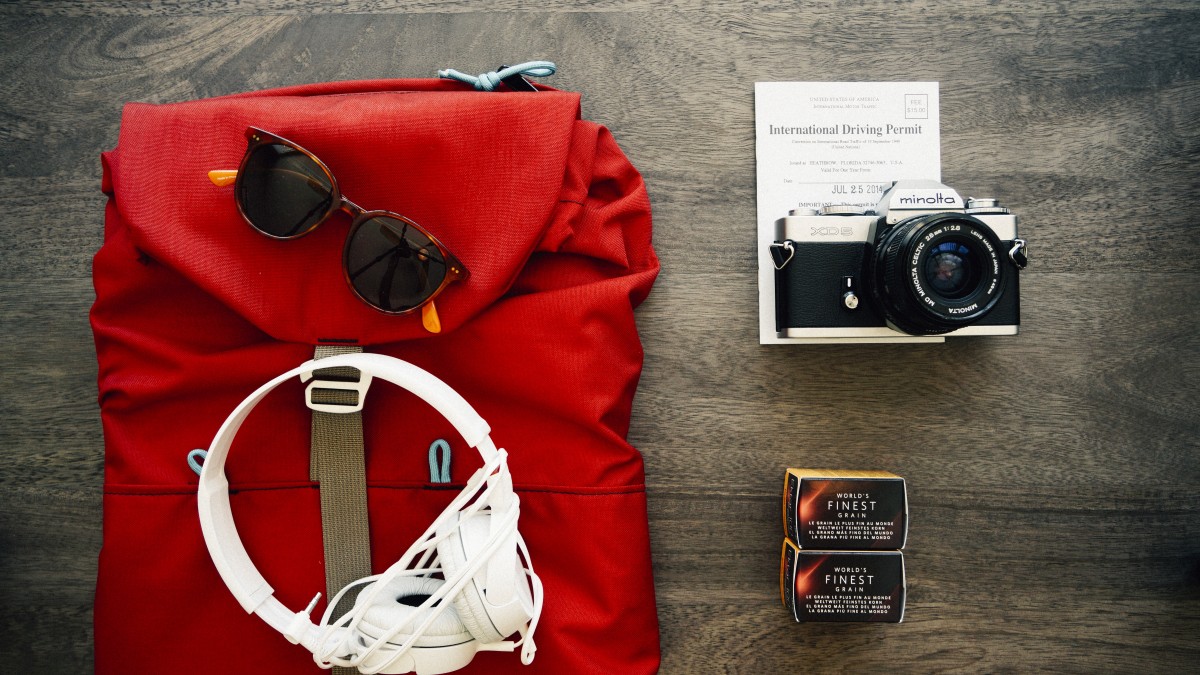 A camera backpack is worn like a conventional backpack and can also carry a lot of other gear that is unrelated to cameras. For example, many backpacks have a pocket for a water bottle and a mounting point for a drone, which many photographers also bring along to take pictures with.
Why do you need one?
This is a useful purchase for anyone who has the money to invest in a DSLR camera. Such a camera is a bulky and fragile device, and it usually requires a number of lenses with different parameters to work properly. People who do professional photography usually take three-to-four lenses for their DSLR cameras. And all these lenses need separate pockets with padding because they are fragile and can easily break from impact. The same is true for the camera itself – it is fragile and needs to be transported in a padded backpack.
A backpack should also easily open and allow you quick access to all the inside compartments and sections.
What makes a good backpack?
Here, we will cover the properties that make a camera backpack fit for the purpose you are buying it for. There are many different properties to consider:
Materials
This is the most important property because this decides the weight and reliability of the backpack. The sturdiness and cushioning ability depend directly on the material too. The best material is usually a synthetic one, like neoprene, polyester, and nylon; however, there are many great models made with leather or cotton canvas parts, and they are no worse than the others. However, if you want a waterproof backpack, then nylon and polyester beat all other materials, especially if they are treated with waterproofing. Some models additionally offer waterproofing inside the backpack.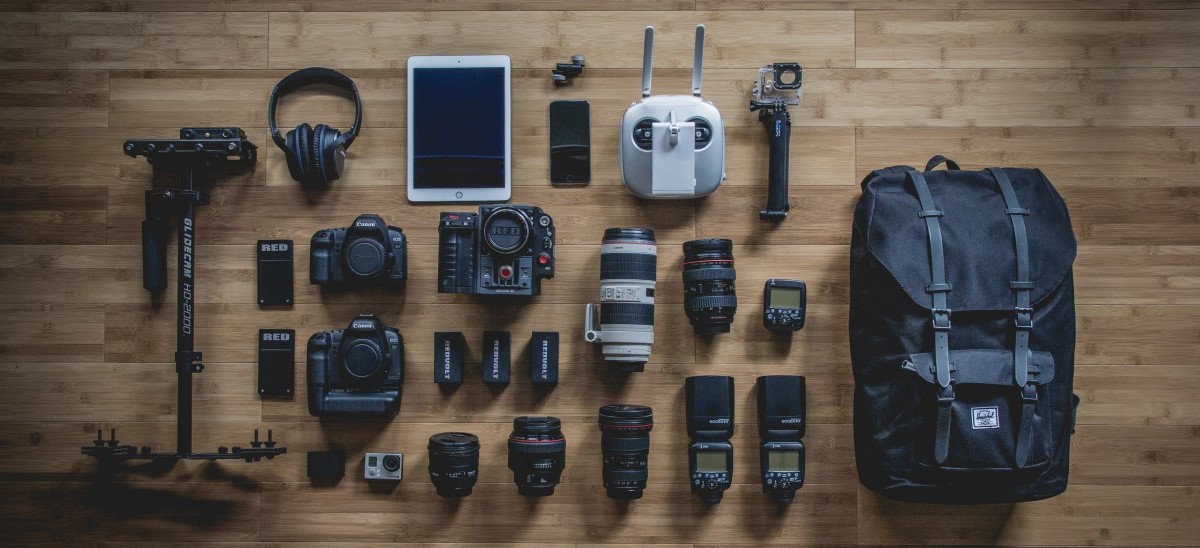 Size
The size and dimensions are also important because if the backpack is large, you can fit a lot of equipment inside, and large telephoto lenses, that sometimes get up to 60 cm long, will fit inside the pack. This is important for people who shoot pictures from long distances because they need long lenses.
A large backpack is also desirable if you will be taking a lot of other equipment, like a notebook or a drone.
Compartments
The number of compartments is one of the most important qualities in a camera backpack because that is its main purpose – to organize your equipment so that all of it is cushioned well and protected from any impact.
Camera backpacks usually do not have pockets inside – they use flexible soft dividers to split the interior space into sections, where you place the camera, the lenses, and the batteries.
The compartments should be adjustable – that allows you to make space for a new, larger camera or an especially long camera lens.
Brand
Try to buy products from trusted brands that want to protect their name by offering only high-quality products. While less-known brands can be trusted sometimes, do not buy their product if it is offered at suspiciously low prices.
Now that we have seen the concepts that make up a good backpack, here are the 6 best models on the market.
This is a cheap, yet very durable backpack made of resilient nylon cloth, available in multiple colors. The nylon is treated with a water-repellent that allows the backpack to keep its insides dry even under heavy rain.
Some of the parts that require additional protection are built out of quality leather that allows good protection from abrasion and other forms of damage. All parts are also padded to prevent impact damage.
The backpack has a good capacity that allows it to hold not only a large DSLR camera but also an array of various other things, like a lot of clothing and a laptop. If need be, it can convert into a regular backpack.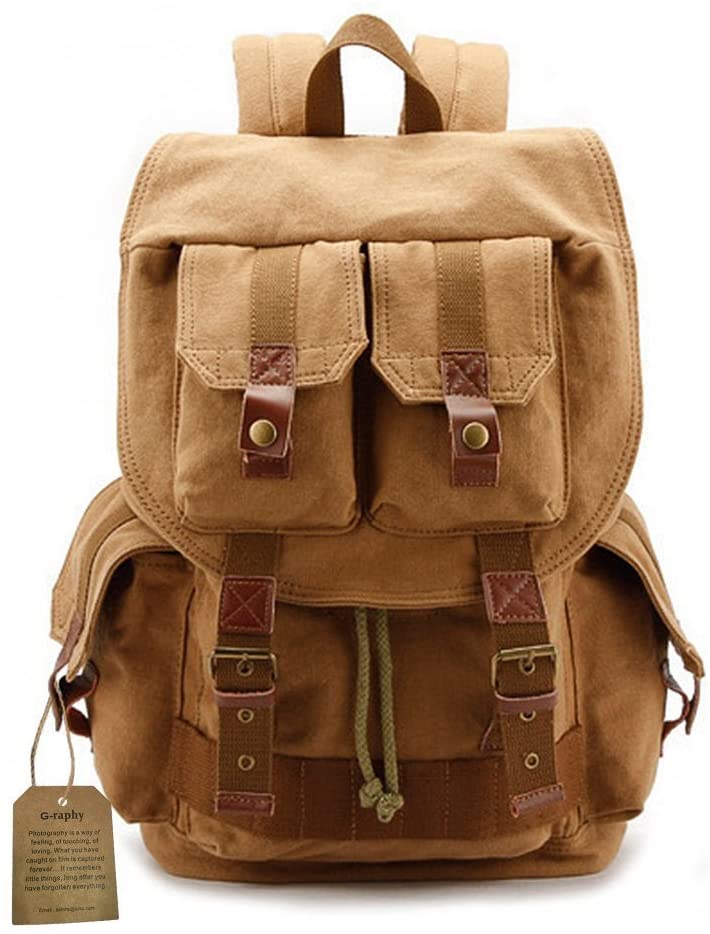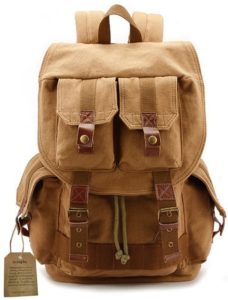 Plus & Minus
A large volume and plenty of dividers that allow you to organize just about anything.
The thick nylon fabric is also waterproofed and in some places, reinforced with leather.
Can be converted into a regular backpack.
The backpack has a few front pockets, but all of them are too small to be useful.
BEST FASHION
This is a waterproof backpack made predominantly of polyurethane leather and waterproof canvas. Both materials contribute to its fashionable looks and make it stand out as one of the most stylish backpacks on the market.
The capacity of 18 liters also makes this a very large backpack; however, its weight remains small enough to be comfortable. The volume allows the user to fit two full-sized DSLR cameras inside the backpack, and both will be well-cushioned. Also, four lenses or flash emitters will fit inside the backpack.
A laptop or tablet will fit in the backpack too, as there is a dedicated compartment for that.
The ventilated mesh on the back of the backpack and the shoulder straps allows you to carry the backpack, even when it is very warm outside.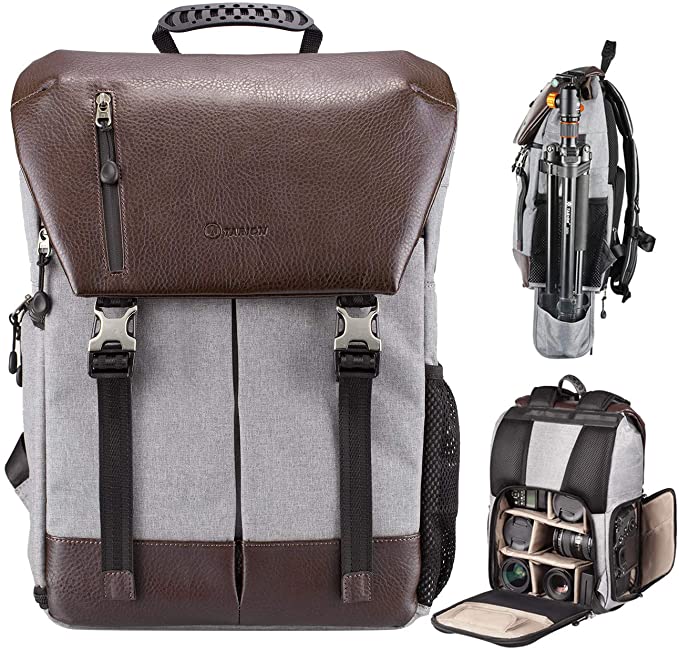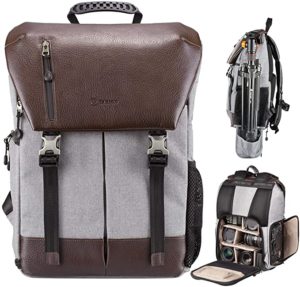 Pros:
The backpack is fashionable because of the quality materials and craftsmanship.
The ventilated back and straps make it comfortable to wear – additionally, the straps are padded.
Large volume, large enough for just about any camera kit.
Cons:
The bag is fairly heavy for its size because of the thick fabric.
BEST FOR PROFESSIONALS
This is a travel-friendly model that is designed to offer maximum protection for all your devices, even if they are very fragile and easily damaged. The model is also built for a large amount of equipment – it offers great volume and is set on a roller with a long telescoping handle.
The wheels are fairly large, and they allow the model to maneuver in airports and other crowded places.
When you need to carry the model on your back, it quickly converts into a backpack in just a few simple steps. The model is equipped with many universal holders, and it has a tripod holder and two pockets with zippers that allow you to quickly remove and add items to the backpack during travel.
The backpack has a place for a 15-inch notebook and a 10-inch tablet or a smartphone.
The waist belt makes this backpack comfortable to carry.
The water bottle pocket completes the design of this heavy backpack that will help you bring your gear to the most remote places.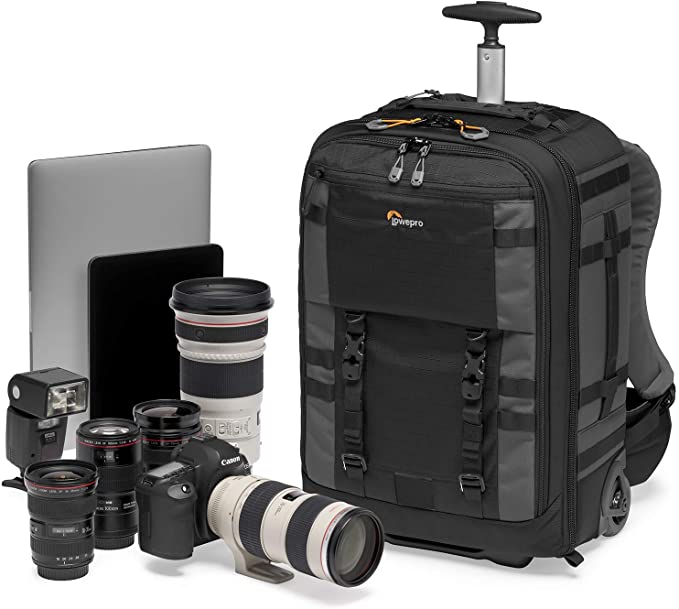 Pros:
Very large volume and plenty of pockets for equipment.
The tough and resilient build combines with the thick padding to make a well-protected model.
The backpack has a convenient roller attachment for moving it over the ground.
Cons:
The backpack is only optimized for camera equipment and cannot carry other equipment.
BEST ANTI-THEFT
This is a well-protected bag that features shoulder straps with slash protection, secured zippers, and buckles. The model is additionally improved with an RFID-blocking pocket that does not let thieves skim information from your credit cards or smartphones.
Some parts of the backpack are reinforced with a stainless steel mesh, called Slashguard – it prevents thieves from cutting your backpack. The bag is, therefore, great protection for a DSLR camera and all accompanying lenses.
The backpack itself is pretty light – only 700 grams.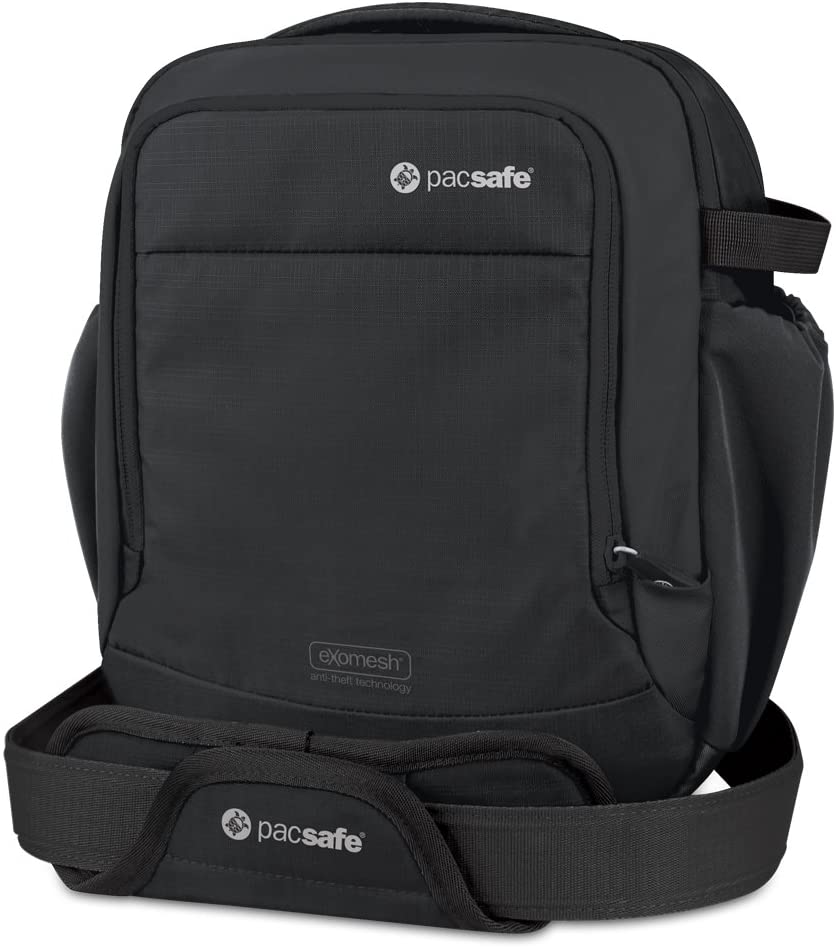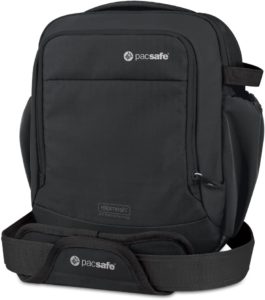 Pros:
Small and light, with a neat design.
Fits a DSLR of medium size and all needed accessories.
Offers excellent protection against any kind of theft.
Cons:
The buckle on the shoulder strap is badly placed and cuts into the shoulder.
BEST PROTECTION
This bag holds 3-4 lenses and a full-sized DSLR camera, in addition to a variety of other small gear that you may fit inside this bag. In addition, there is a laptop pocket that fits a 15-inch notebook.
The dividers are made of Flexfold – a soft cushioning material.
The exterior also offers a few pockets for quick storage and removal of items.
The patented  MagLatch access system allows you to quickly open the top of the backpack and access the insides to get all the contents immediately.
The nylon fabric on the outside is already resistant to water, but it is additionally treated, so water rolls right off it.
The soft EVA padding on the outside makes this backpack a well-secured model for safe transportation, and you can trust it even with a very fragile camera.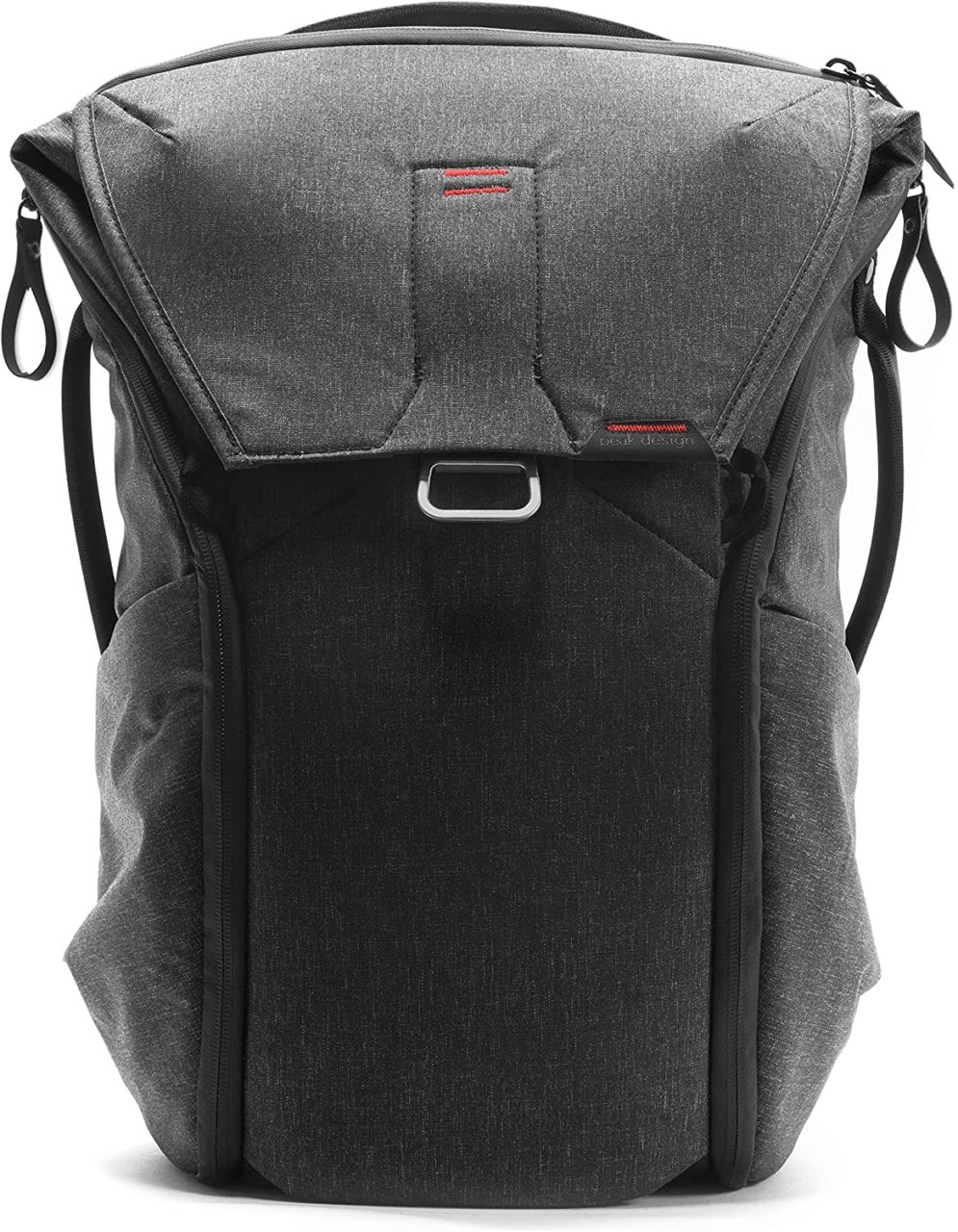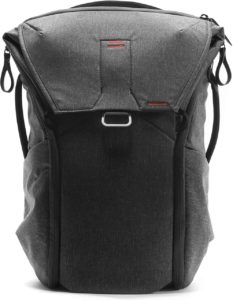 Pros:
Great protection on all levels.
The model is optimized for a large DSLR and 3-4 lenses, as well as a laptop.
Easy to open and access all the interior spaces.
Cons:
The exterior pockets are small and not really useful.
BEST FOR DRONES
This is a backpack optimized for the safe transportation of DJI drones. It is built to transport a conventional DSLR in addition to a DJI drone and a variety of gear for both the camera and the drone. The drone backpack has separate cases for the drone, the controller for it, and batteries.
The external hooks offer storage for a tripod, while the internal compartments have enough space for all you need for a quadrocopter – chargers, batteries, and other accessories. There is also a section designed for a laptop.
The backpack offers excellent padding on all the compartments and is made of tough synthetic cloth that does not let through the water.
It is 22 inches tall, 13 wide inches, and 9 inches deep. The backpack weighs two kilograms when empty because of the thick fabric and a lot of padding.
The model has a few exterior pockets with zippers that make it possible to quickly store and remove small items.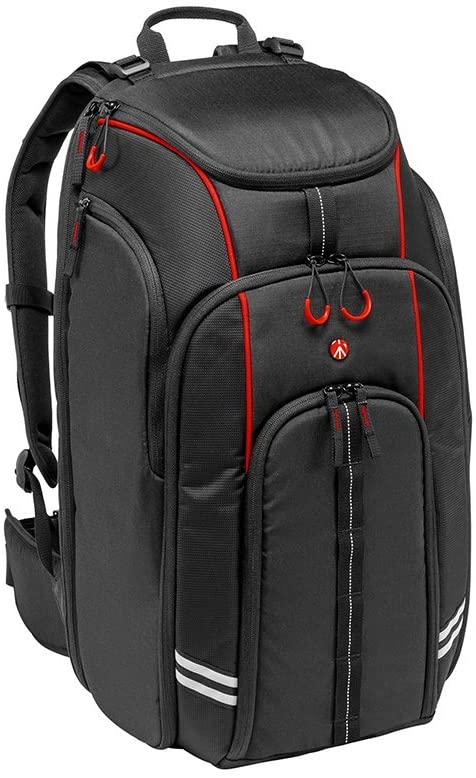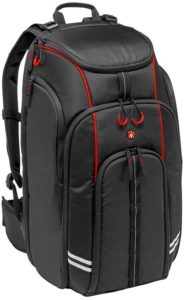 Pros:
Great for transporting most models of DJI drones.
Also is able to house a tablet and a 17-inch laptop.
Offers good protection for everything that is inside the backpack.
Cons:
Pretty expensive.
Conclusion
A camera backpack, as we have stated above, is a must-have for anyone who enjoys photography. Therefore, if you have a DSLR camera and intend to take it with you when you travel, then do not hesitate to invest in a backpack that will fit your camera and all the lenses for it. It will really help you in your travels and be a useful thing to spend money on.
Hopefully, you now know how to properly choose a backpack and will be able to pick one for your situation. And maybe your choice will be one of the top 6 models we presented here.