Tan Son Nhat International Airport in Ho Chi Minh City (Vietnam)
Tan Son Nhat International Airport, founded in the 1930s, was also called Ho Chi Minh or Saigon Airport. The number of planes and visitors arriving there annually makes it the most important airport in Vietnam. The airport is very extensive, and it has access to a medical facility, many restaurants, and a shopping center.
The airport has an extensive infrastructure and is composed of many diverse facilities, so if you want to know more about it, read below, where we describe in detail all the parts of this airport.
About Ho Chi Minh Airport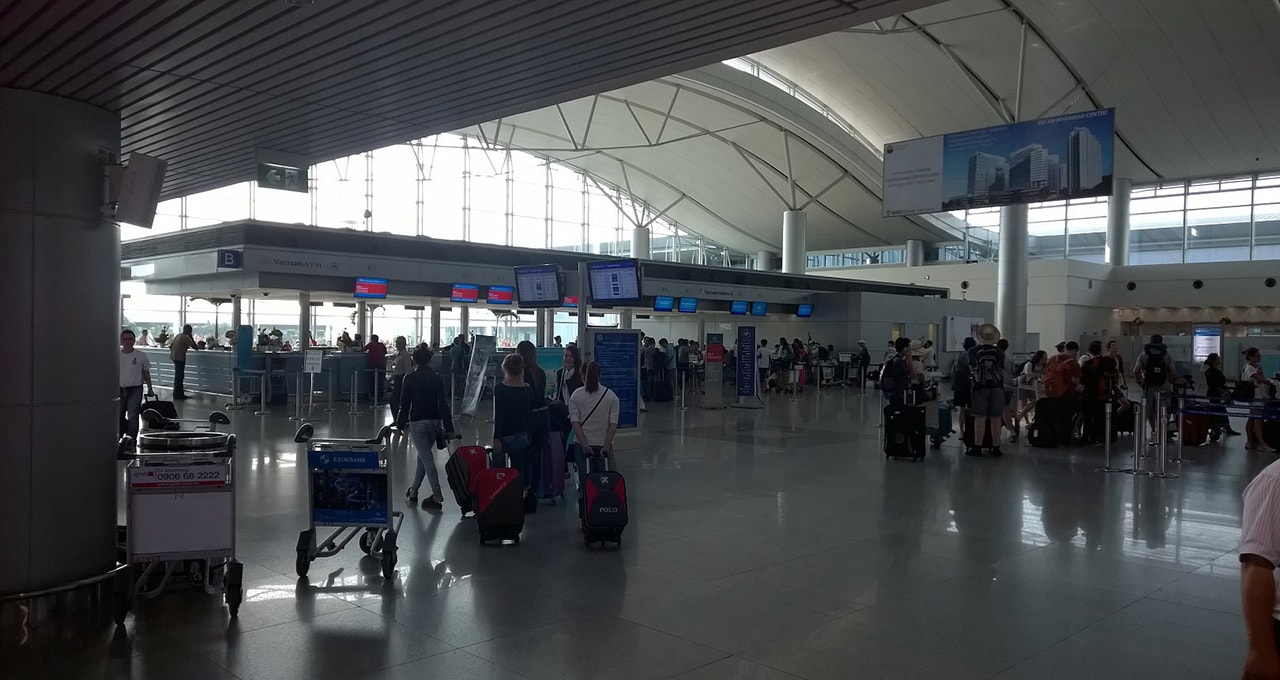 This airport serves 38-39 million visitors per year, both departing and arriving. In 2018, it scored the busiest airport in Vietnam. Ho Chi Minh City, which is right next to it, is a popular tourist directory because of its rich culture and interesting sights.
The airport is a three-story building with new architecture and many comforts. It is constantly being remodeled and rebuilt, which keeps it in good shape. The building is also being expanded to accommodate more travelers.
Next to the airport is a car rental office, many ATMs, and a currency exchange office. There are restaurants serving light meals inside the airport and many more rights next to it.
All of the airport has free Wi-Fi available.
Current Expansion Work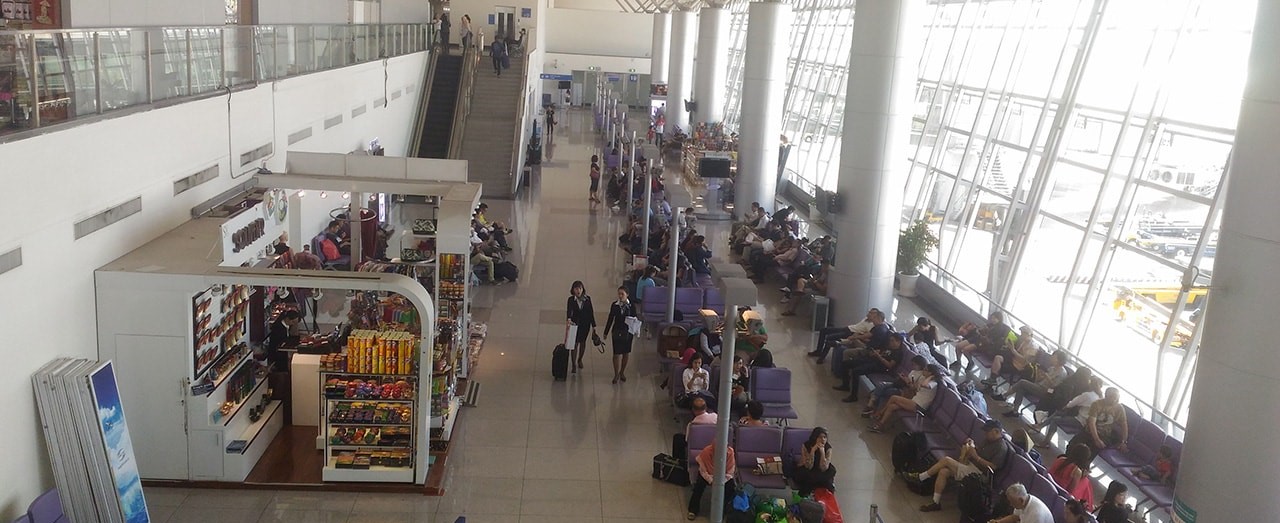 The airport was not intended for the huge amount of customers it is receiving yearly. Even though it is a small airport by international standards, it gets very many visitors, upwards of 38 million. This causes large delays in processing and accommodation, so if you decide to visit this airport, expect to encounter delays in many places. With an area of 850 hectares, it is still the biggest and most important in Vietnam.
The most popular destinations from this airport are Singapore, Bangkok, Tokyo, and Seoul. More than half of the flights go to these 4 cities. For that reason, citizens of these countries do not require as much paperwork to get a flight and also may get a Visa easier.
The airport has been suffering from overcrowding because it was not intended to take the huge number of travelers it has been receiving. Therefore, it is going to be replaced by the Long Thanh airport, which is currently being built to take more than half of the load of visitors. It is expected that both airports will stay functional and continue operation.
Long Thanh is not going to open before 2025, so Ho Chi Minh Airport will continue to expand to accommodate the increasing flow of visitors. Therefore, there is currently construction work going on there. In three more years, Tan Son Nhat will be able to accommodate up to 45 million visitors yearly.
Ho Chi Minh Airport Arrivals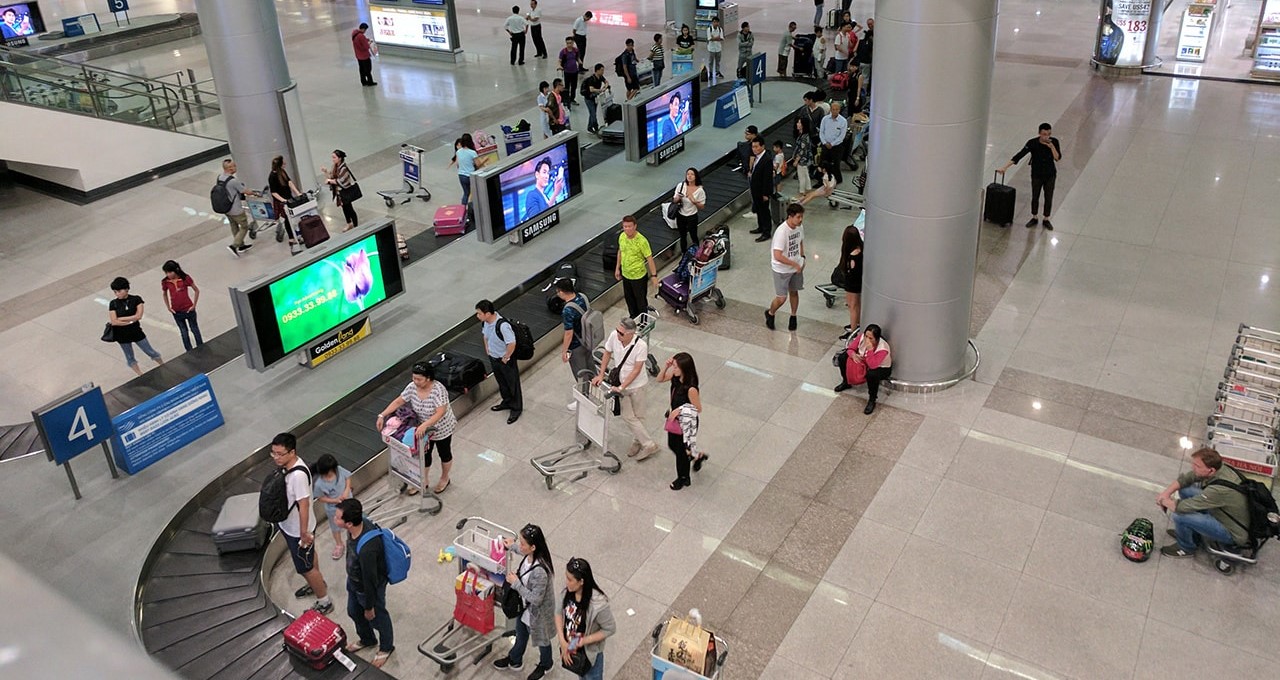 The planes land, by default, on the jetways, where the passengers get off. Then it takes just 5 minutes to walk to the Immigration offices. There are many jetways here, but nonetheless, some planes will be parked away from them. In the case of these planes, the passengers will be seated in buses, taking them to the terminal. The terminal is also where you can receive the visa on arrival.
The visa on arrival is near the Immigration counter. This is where you simply hand over your passport and the invitation letter from the visa application. In a few hours, you will get back your passport and a visa.
Separate desks are present for those ASEAN and non-ASEAN visitors. After Immigration, you walk into the Baggage Hall, which has shops and a toilet facility. After Baggage, you walk into Customs, where there is also a money exchange booth and tourist information booth.
Customs is the last room in the terminal, and when you exit, you can simply rent any of the taxis or motorcycles there and depart for Ho Chi Minh city.
Visa rules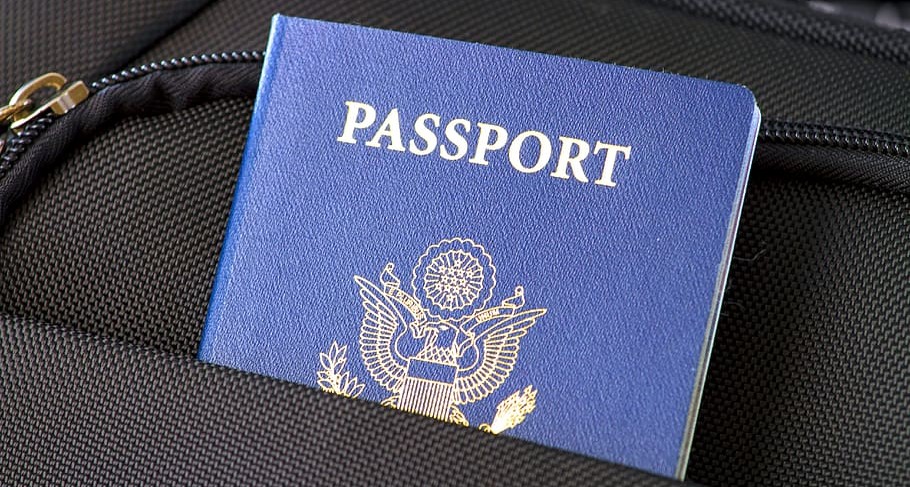 It is best to obtain a visa before going to the airport because there may be delays and difficulties obtaining a visa here. Also, note that a visa is not necessary on arrival for people with a Japanese passport and some other passports.. However, rules often change, so it is a good idea to check current data before arriving.
You may also get Fast Track Security Screening if you are a business traveler, and the security process will be much shorter. You will just have to show one paper, and you will be admitted without additional hassle.
The rules on Visas and other kinds of admission change sometimes, and in Vietnam, these rules are particularly flexible, so be sure to contact the Vietnamese embassy or airport administration in order to check if anything has changed and to see if your passport requires a Visa at all.
Convenience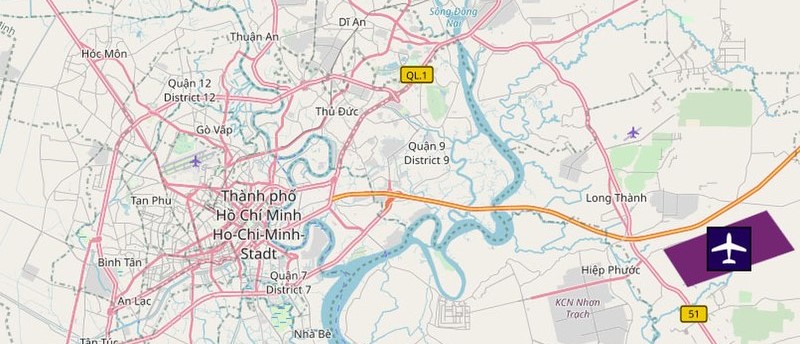 The airport is considered to be one of the most convenient and easy from the passenger's point of view. An interesting point is that you can buy a 4G SIM card for your phone immediately inside the airport. This allows you to pay less for mobile connection, which saves you money. Right upon arrival, you can also rent a taxi to get you over to the city. The taxis here are affordable and are always ready to help.
It is also possible to book a taxi before arriving at the airport, so it will be waiting for you there at the designated time.
The terminals also have smoking rooms, where smoking is permitted for everyone. Also present are phone booths that allow you to make inexpensive international calls.
The airport is geared towards tourists, who are the larger part of the people who travel there. To that end, the place is equipped with tourist information booths, where you can ask questions. There are maps in many places, which show your location. There are also many places that offer to exchange currencies, where you can get Vietnamese money right away.
The personnel of Tan Son Nhat don't speak good English but are selected to be friendly, helpful, and sociable, so you can expect to have a good overall experience at this airport.
Ho Chi Minh Airport Departures
When departing, you go through baggage checks, then walk into the check-in hall. There you sign a paper and go to Security. You are not allowed to take a luggage trolley into security, but there is no restriction on hand-carry luggage.
After security checks your luggage, you get to the Departures room, where your passport is checked. There are a few shops in Departures and a small restaurant. Right before boarding, you pass another security check.
Departures have much of the same comforts as the Arrival section, being built in the same way and not too many differences..
Getting to the Airport
Taxi or bus

The most popular route there is a taxi, which is a very cheap way to get to the airport. Also, many buses go there too, and a bus may be a better choice than a taxi. Even though they are slower, they are less expensive. The particular race – bus 152 – is the cheapest option that is the most efficient way to get to and from Ho Chi Minh Airport.
Do not use taxi services other than Mai Linh and Vinasun because the other companies tend to rip you off.
The airport is located 8 kilometers from the business sector of the city. To get there, you have to follow the road that goes north. You can park in the long-term parking space, located by the airport entrance.
Motorcycle
Another good way to get to and from the airport is a motorcycle, many of which are offered for rent near the airport. They are an inexpensive way to get around the city, but you have to have a license to do that. If you travel alone and do not take much luggage, then a motorcycle might be the best transport to use.
Metro
A metro line, Line 4B, is currently being built to make it possible to get to the airport by metro, but it is unknown when that line will be finished.
Where to Stay

[tp_hotelmap_widget coordinates="10.80046, 106.67084″ width=500 height=250 zoom=12 subid=""]

After you arrive, the best place to live temporarily is Hoang Thanh Thuy Hotel 1. It is the nearest and most well-known place. It is designed to accommodate new arrivals, so you will find it comfortable and easy to get used to.

The hotel also has luggage storage and many other conveniences. The hotel is also a 10-minute drive from all the important places in the city, and, therefore, is absolutely the best place to go after you are done with the paperwork after your arrival.
Customs and Rules
There are a number of rules and traditions in this airport, some of which may seem unusual. We will review the most interesting and important differences.
Money
It is not permitted to have more than $5,000 in your possession when you leave this airport. In fact, your money may be confiscated if more than $5,000  is found on you. To avoid this happening, file a customs declaration that states the amount of money you have.
Money is counted by summing up all the valuable things you have. That means the operator will count not only your paper money but also take note of gold, silver, precious stones, and other kinds of currency you are taking with you.
Antiquities
Without a license and much paperwork, you are not allowed to take antiquities out of the country.
This rule actually applies not only to this airport but to most airports in Vietnam.
Videotapes
All digital media you take with you, including tapes and CDs, will be checked to see if it contains illegal copies of licensed videos or films.
Then you receive a certificate if they are licensed, and after that, you will not be bothered again.
Baggage
You will not need to open the baggage – it will be scanned with X-ray, and that is all you will have to do to pass security.
However, the X-ray operator may request you to open the baggage if he notices any suspicious objects in your luggage. In that case, you will have to show him what caused the machine to go off. After that – proceed as usual.
Pets
Rules on pet transportation are rather easy here, and all you have to do is call ahead of time and warn the operator that you are bringing a pet with you. However, if the country you are flying to has pet rules, you will have to contact the embassy there and ask if they have any pet quarantine rules.
Restrictions and COVID-19
Because of the COVID-19 pandemic, the airport is mostly closed, except for Vietnamese who are currently abroad and need to get home.
Also, especially skilled workers are allowed inside after receiving special permits.
Since March 18, no Visas will be offered to arriving foreigners. If a person receives a special permit from the Vietnamese Embassy that allows him to travel to the country, he may land. Otherwise, he will not even be allowed to receive a Visa and will have to go back.
People who have arrived with a permit and received a Visa must remain in 14-day quarantine if the country they arrived from is a COVID-19 hotspot. Otherwise, they may proceed as usual right away.
Travelers will also have to comply with many difficulties related to the pandemic. For one thing, you will be requested to provide a history of your prior travels to show you've never traveled to COVID hotspots before.
All new arrivals go through a basic check with a thermometer. Anyone with a fever will be placed in quarantine until he is declared clear of infection.
The medical checkups make the arrival process even more lengthy. This adds to the already overcrowded airport's condition. Expect to spend a lot of time in a line at the checking desk.
So far, there have only been 68 COVID infections in Vietnam, and the government is doing all that is possible to keep COVID at bay. So be prepared for medical inspection – it is now necessary to get into the country.
Conclusion
Tan Son Nhat International Airport is the best airport to travel to if you want to get to Vietnam or depart. It is the one with the most comforts, the friendliest staff, and the best infrastructure. The airport is also kept in a state of repair and is continuously expanding.
If you are going to Vietnam, Tan Son Nhat International Airport should be your first choice.