Best Travel Insurance for Vietnam
Buying travel insurance can be confusing. There are many options with thousands of different companies all offering different policies. How do you decide which is the best policy for you?
We have crawled the web for the best travel insurance providers for Vietnam. The clear winners are IM Global, AIA, World Nomad, AXA, and Allianz Liberty Travel. Each of these providers offers safe and reliable policies for travel in Vietnam.
This guide to travel insurance in Vietnam will give everything you need to stay safe on your trip.
Why Travel Insurance?
It doesn't matter where you go on this planet, travel insurance is essential. The real world is unpredictable. Accidents happen and not everyone is friendly. It's always best to get covered for the unexpected.
Choose travel insurance that covers additional risks
Those who have long traveling plans in Vietnam or South East Asia must get travel insurance.
Your insurance will cover any unexpected financial or health problems. It will also give you peace of mind as you take on some risky and exciting adventures.
One of the biggest draws to Vietnam is the chance to motorcycle from North to South or vice versa. While this is an incredible experience it's also highly dangerous.
Read more about: how to rent a motorbike in Vietnam
If you are going to ride a motorcycle in Vietnam, you MUST get appropriate travel insurance. to cover you (more on this later.)
Accidents are very common in Vietnam. Accidents can occur both on the road and off the road much like every other Southeast Asian country. It's best to be safe and get yourself covered.
What Am I Covered For?
Travel insurance can cover anything from a stolen wallet to a motorbike accident. Insurance plans are adaptable. It's important to understand what cover you will need before your arrival.
Apart from the basics that come with all cover plans, here are some specific things you will want to cover too.
Medical Insurance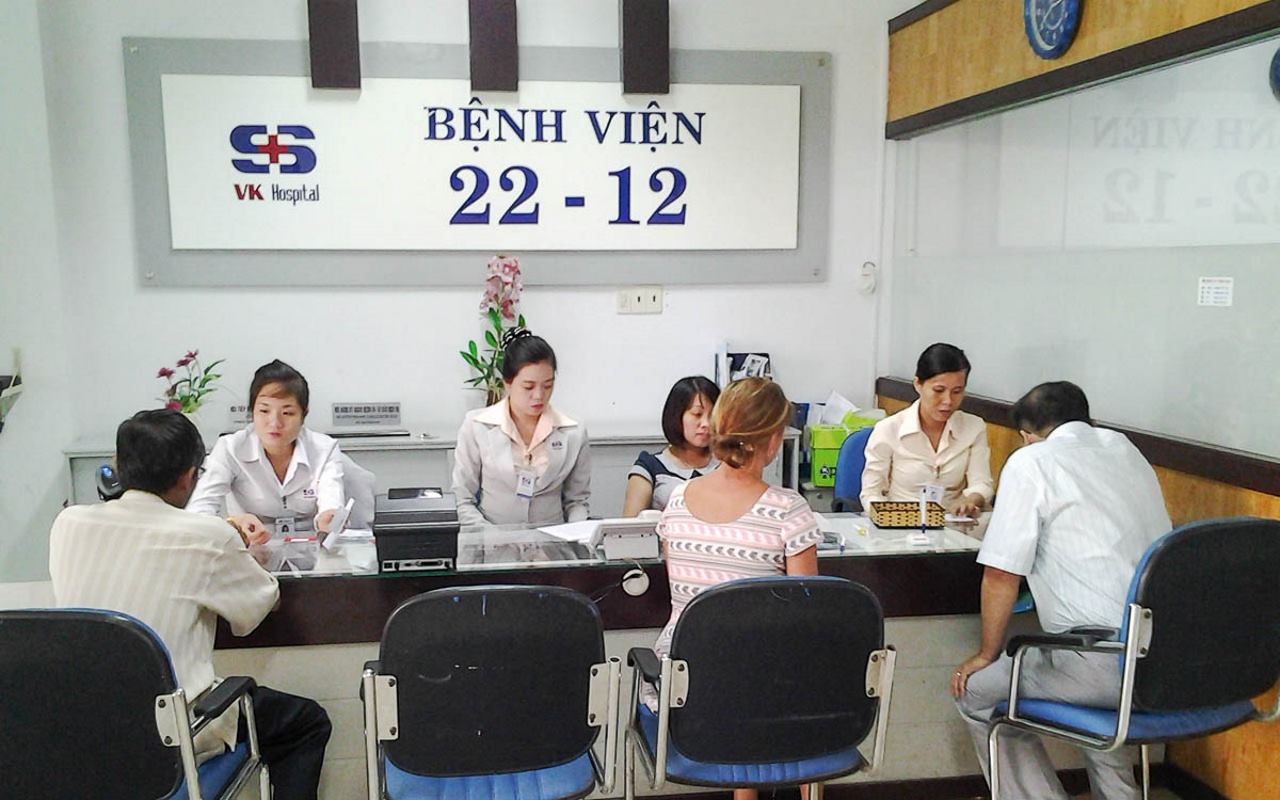 Healthcare in Vietnam is vastly different from what you are probably used to at home. Walk into any public hospital and you are in for a big surprise. Huge waiting lines and a lack of beds is common.
You have two choices: cheap and basic or expensive and international. International hospitals in Vietnam are of good quality. We recommended them if you should get into an accident.
International hospitals are much more hygienic and operated by international doctors. The equipment is up to date and the medical advice given is usually sound.
You may not have the luxury of an international hospital and will have to settle for a public hospital. International hospitals are in major cities such as Hanoi, Ho Chi Minh City, and Da Nang.
Failure to insure yourself could result in an astronomical hospital bill. Do not risk it.
Motorbike Insurance
Driving a motorbike in Vietnam is a wonderful but dangerous experience. The roads in Vietnam are chaotic and very few rules exist.
You will discover that the biggest vehicle always has right of way. They care very little for your safety on a bike.
If you are thinking that you will be fine because you're only driving out of the city, then think again. The roads are just as dangerous outside of the cities.
Motorbike accidents are the number one cause of accidents and injuries for travelers. If you have never driven a motorbike before, it's advised that you do not start in Vietnam.
You may have the opportunity to learn how to drive. But, learning road awareness takes years of practice. Vietnam's roads demand great awareness skills to stay safe.
In fact, the second biggest killer of Vietnamese people is traffic accidents. If you decide to drive a motorbike in Vietnam, you should buy a comprehensive insurance plan.
Motorcycle cover in Vietnam requires a valid motorcycle license. This is not required if you are driving a motorbike with an engine of 50cc or less.
Above 50cc you will need your valid motorcycle license and a Vietnamese license. To get a Vietnamese license, you need:
A residence visa
Work permit or business visa (30 days or more)
If you are planning to take a motorcycle trip through Vietnam, you will need a motorcycle that is at least 125cc. To be fully insured you must have:
A valid license from your country of residence
A Vietnamese motorcycle license
Without these, no insurance company will payout for a motorbike accident.
You can not legally drive anything more than a 50cc bike without a license.
If you have both valid licenses your insurance company will not pay out for if:
You were not wearing a helmet.
You were under the influence of alcohol/drugs.
You were violating Vietnamese road laws.
Cancellations and Delay Insurance
Cancellations and delays are common throughout Vietnam no matter your mode of travel. 
You will likely experience delays when you take a domestic flight within the country. Popular domestic airlines like VietJetAir and Jetstar are often canceled and delayed.
It is important to get covered for both scenarios. You can then reclaim any money for pre-paid tickets, hotels, or tour bookings.
Cancellations are not always the fault of an airline or ferry service. You may have a family emergency and will need to get home immediately. You will then need to cancel future flights already booked.
Always make sure you read the small print on your cancellations and delay policy. Many insurers need proof that you made the best effort possible to continue your trip.
You may have to submit notes, announcements, letters, or emails to prove it was not possible. Without these forms of proof, you may not get refunded a single cent.
Loss and Theft
Loss is an inevitable part of your travel experience. Losing a few socks in a hostel is a lot different from leaving your MacBook on a coach in central Vietnam. 
If you are carrying lots of valuable items such as a laptop, camera, phones, and cash you should get them covered.
Theft is not that common in Vietnam but it's always best to be safe than sorry. Most thefts happen in the major cities when men on bikes snatch purses or bags from locals or travelers. 
Again, this is rare but it's worth getting covered anyway.
Catching DHF (Dengue Hemorrhagic Fever)
Read also: Sharks, jellyfish, snakes, and other dangers in Vietnam.
Dengue fever is a dangerous mosquito-borne disease. It can cause the infected to suffer from many symptoms including:
High fever
Headaches
Pain behind the eyes
Joint and muscle pain
Fatigue
Nausea
Vomiting
Skin rash that appears after 2-5 days after fever
The best way to avoid DHF is to wear an appropriate bug mosquito repellent. This does not 100% protect you and you could still contract DHF.
Healthy adults can recover within a few weeks. You must go to the hospital immediately after noticing the symptoms above.
Travel insurance policies will cover you for inpatient and outpatient treatment of DHF. Double-check your policy to make sure it is included.
Contracting dengue fever is unlikely but possible. If traveling in areas of the country with a high number of mosquitoes such as the Mekong Delta, you are at a higher risk.
Food Poisoning
Food poisoning is a common issue for travelers in South East Asia. Your travel policy will cover you for any treatment but you should always make sure before you buy.
Most street food in Vietnam safe and cooked fresh right in front of your eyes. Getting food poisoning is more likely in restaurants where food is improperly stored.
Toothache
A comprehensive travel insurance policy will usually provide you with dental coverage. This includes:
Severe emergency (broken tooth, extreme and sudden tooth pain)
Chipped tooth
Severe toothache
Those with bad toothache or teeth issues should take their specialist toothpaste. You may not find it in Vietnam.
How to Pick the Right Travel Insurance
Plan your travels as much as possible so you know what type of activities you will be taking part in. Make a list of the activities you want to do. 
Start looking for plans that include all these plus the basics. Add any special items such as:
Health/medical
Motorbiking
Cancellation/delay
Loss/theft
You don't need to plan your trip down to a tee. Have a good idea of the activities you want to take part in so you can get covered before arriving. 
Don't decide to go white water rafting in Dalat on day three of your trip with no insurance cover already in place.
Always read your policy documents. Research into anything you don't understand and make sure you know your rights before buying.
Some insurance policies look great when glancing at the "what's covered" section. Always check the small print which details scenarios in which they won't payout.
Make sure you understand all the following before you take out the plan:
What's included and excluded in the policy?
How do you contact your provider?
What paperwork should you travel with?
What are the monetary limits for each item?
What excess (if any) will you need to pay for each item if claimed?
What proof do you need should you make a claim?
What number is the international 24/7 hotline number?
Always spend a significant amount of time reading all the details. Unfortunately, some insurance companies don't have your best interest at heart.
It's on you to make an informed decision and not jump for the cheapest option.
Who Do You Contact in Case of an Insurance Emergency?
When you buy your travel insurance policy you will get an email with all the relevant paperwork. In the paperwork, you will find an emergency contact number that you can call 24/7 for help. 
If you don't see this, contact your provider immediately for the details.
Once you have the details you should save the number on your phone. Keep the paper with you on your travels too and give the number to a close relative. This way, they can contact your provider on your behalf if needed.
What Do You Do in the Case of an Insurance Emergency?
You must find the emergency contact details of your provider. Call them and introduce yourself, tell them where you are and describe the situation you are in.
A member of your provider should then give you instructions on what to do next. They may provide you with a specific list of hospitals to attend, and this service you can receive.
Some providers may even be able to provide you with an ambulance. They may even arrange a doctor's visit to your accommodation.
Your medical expenses are covered by your provider. You will most likely need to pay for those expenses first. You will then get refunded the money by your provider. This is why it is important to have cash in the bank for emergencies.
Keep all the documents you receive from any hospital or doctor. Some of this paperwork will need to go to your insurance provider. 
Can I Buy Insurance During Your Trip
Yes, it is possible to buy travel insurance or extend it during your trip. You may be limited to only a select few international providers. These may cost much more than other domestic providers back home.
Once you have bought your insurance it will take 3-5 days for the paperwork to activate. This is a precaution taken by the provider against any fraudulent claims.
It's advised that you buy your comprehensive insurance before you take your trip.
In What Circumstances Will an Insurance Provider Not Pay Out
Alcohol Inebriation
You will not get covered if intoxicated when your accident occurred. It's advised that you do not drink and drive during your time in Vietnam.
Riding a Motorcycle Without a License
You are only covered for motorcycle accidents if you have a driving license. You must have a license from your home country and a Vietnamese driving license.
Improper Coverage
If your expenses outweigh your cover you will need to make up any difference with your own money.
The Best Travel Insurance for Vietnam
Here are the best providers and policies for Vietnam travel. These companies are reputable, well-reviewed, and trust-worthy. Their policies may cost more than most but they are the safest options.
Click the company, go through the quote process and then start to compare. Each policy is different.
Make sure you add any specific adventurous activities you may want to enjoy on your travels. You can add these later while traveling but it's cheaper to get covered right from the start.
We recommend that you start your policy at least a week in advance to your departure date. This will ensure the verification process for your policy is complete. You are then covered for the day you leave and the entirety of your trip.
Final Thoughts
Travel insurance for your trip to Vietnam is a no brainer. We're confident you will explore the country without a single problem but it's always best to be safe than sorry.
These are the most comprehensive and reliable travel insurance companies out there. It's worth spending a good amount of money on a solid policy that covers you completely. You can then be free to enjoy your travels with complete peace of mind.