Tet – The Vietnamese Lunar New Year Festival
Today, we will tell you about Vietnamese Lunar New Year or Tet. We will explain why it is so important for the Vietnamese and describe how it is celebrated. We will talk about traditional foods, tell you about the many traditions associated with Tet and advise you on how to travel around Vietnam to get the most out of the celebration.
What is the Tet Festival?
This festival is the counterpart of Western Christmas and New Year. It is widely celebrated over the whole country of Vietnam. This party is the biggest festival in the year. It is celebrated on the first day of the Lunar Calendar and occurs on a different day every year.
The holiday lasts a week or a little longer. It is not celebrated in one day – every one of the seven or eight days of Tet is a holiday, and many ancient traditions are incorporated into Tet.
How is the Tet Festival celebrated?
For most Vietnamese, the party is celebrated with a family reunion. In the course of the week, most family members get together. There are many traditions that emphasize this, like the giving of lucky money.
Most families prepare many various party foods during Tet. There are a lot of various recipes for Tet, and we will cover the most important ones in detail later on.
The first thing people do when Tet begins is to visit the ancestral temples. There they pray to their ancestors and ask for a good new year. After that, the celebrations start.
Another important aspect of Tet is cleaning up homes. This is exactly like Spring cleaning in Western culture. The homes are not just cleaned but are also decorated with red and yellow flags and banners. Flowers are often used as decorations. The homes and markets are decorated with pink cherry flowers, yellow peach flowers and many other kinds of blossoms.
For these reasons, many Vietnamese will be at home during the party, giving visitors the ability to experience the city without the heavy traffic that is usual in the large cities of Vietnam.
The celebration starts on the first day of the year, but the week before Tet is also special. This is when people do a lot of shopping because they want to buy food, decoration and presents that they will give to their friends and family when Tet starts.
Vietnamese New Year Traditions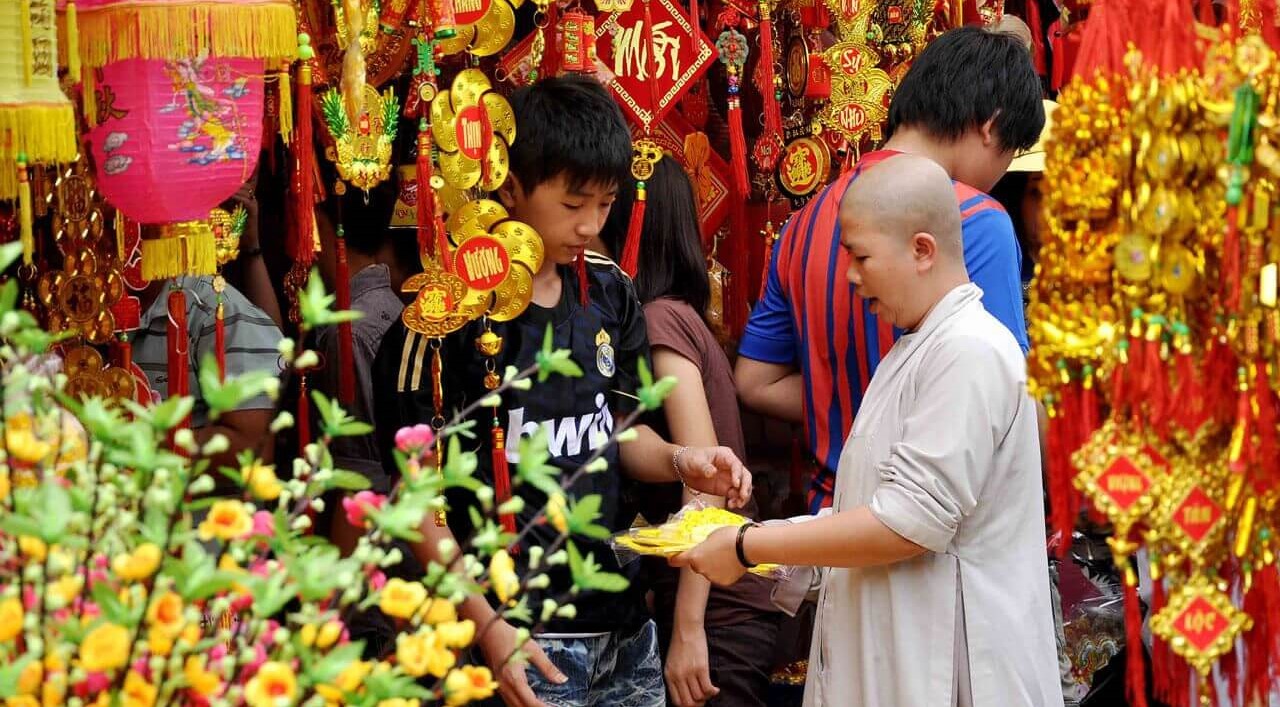 During Tet, you will see that many things like flags and street lights are colored yellow and red. These two colors are associated with good fortune in Vietnamese culture. These two colors will be just about everywhere during the week of Tet. The envelopes for lucky money are red, and the calligraphy on them is yellow. The foods served during Tet will be predominantly red and yellow. Many flags and banners will be red.
It is believed among the Vietnamese that your behavior during Tet will determine what happens to you in the course of the next year, so people try to be as polite as they can. When you go to the market during Tet, you are not supposed to bargain or haggle because that will possibly bring you bad luck. If you do, then do it very politely.
Another important tradition for Tet is Li Xi – lucky money. This tradition, like most others, is also about family reunion. Family members buy red envelopes with designs in yellow and put money in them. There is usually just a symbolic amount of money in the envelope, but the tradition is not about money – it is about giving gifts to family members.
Food for Tet
Food is a very important concept in Tet – it is what unites family members during the party. Every family stocks up with various foods in the week before Tet and makes sure to cook enough different dishes for all the guests. The markets are also full of different foods.
We will cover six of the most popular dishes that are eaten for Tet.
Banh chung (Vietnamese Square Sticky rice cake)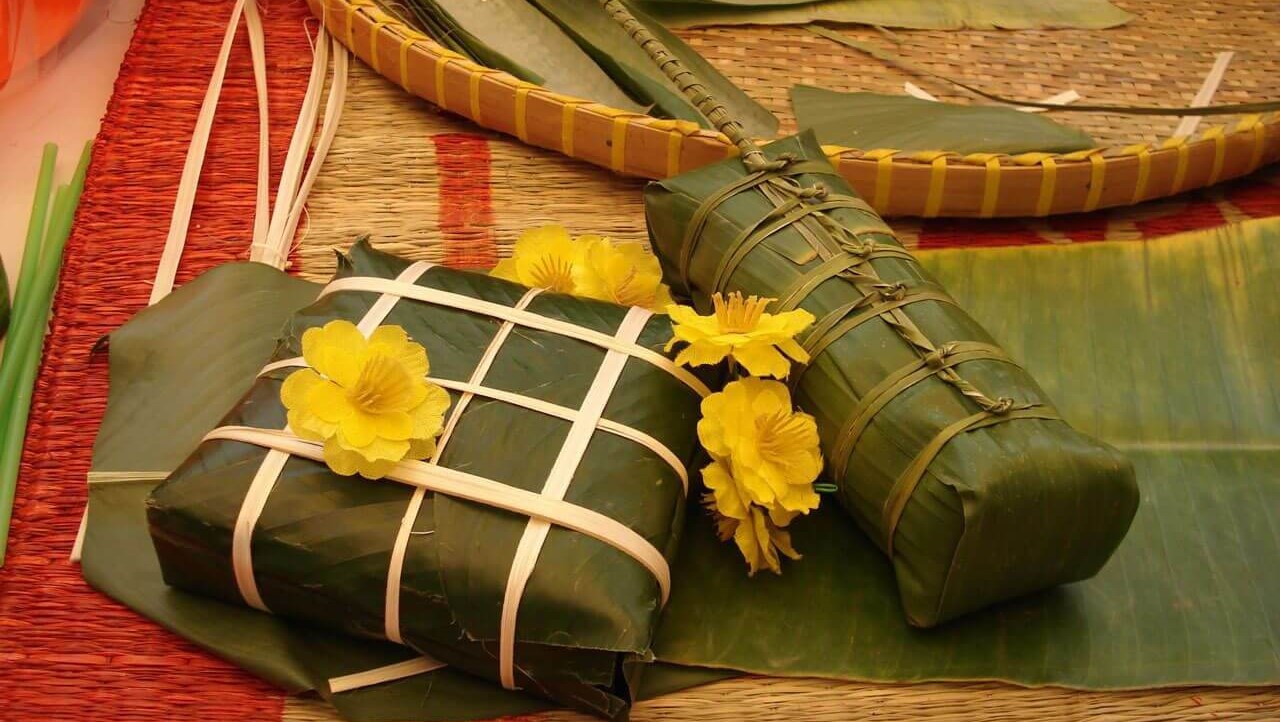 This is the counterpart of the cake in Western culture. It is made with sticky rice and filled with boiled pork and mung beans. The process of cooking this cake is fairly long, and often a few people are employed to watch over the baking. This long cooking also helps people get together.
The cake is wrapped in bamboo leaves that impart a green coloring to the rice underneath them. The cake is made in a square shape and is boiled for up to 12 hours. The best rice is selected for the cake and is soaked in water before boiling.
Banh chung will give you an unforgettable experience because no other food has this kind of taste and texture.
Gio cha (Vietnamese sausage)
This is usually eaten as an addition to starchy foods like rice. It too is wrapped in leaves, just like banh chung. The sausage is unwrapped before eating. The sausage is made of pork, which is mixed with fish sauce and pepper. However, some varieties use beef instead of pork, and some others have different condiments added, like mushrooms. All the ingredients are carefully boiled for a long time and sometimes steamed. The sausage is cut after unwrapping, and everybody gets a piece.
Thit kho trung (Vietnamese Braised Pork with Eggs)
The pork is cut into cubes and soaked in water with garlic, sugar and coconut juice. The pork is served with eggs, which, in Vietnamese culture, symbolize happiness. The eggs are served boiled and peeled. The pork and eggs are cooked together and are accompanied with pickled vegetables
Mut (Candied Fruits)
This small sweet treat is very common in Vietnam during Tet, and every family takes care to make a boxful of these to give to guests and put on altars as offerings to ancestors. As the candies are chewy, guests take a long time to eat them and thus stay longer, which is important, as Tet is supposed to bring people together. And, of course, kids enjoy them as all children do.
Melon seeds
This treat is great to eat with a cup of tea. They take time to eat because you have to bite through the tough skin of the seed. However, just like mut candies, they are supposed to last a while.
Vegetable soup with pork skin (Canh Bong)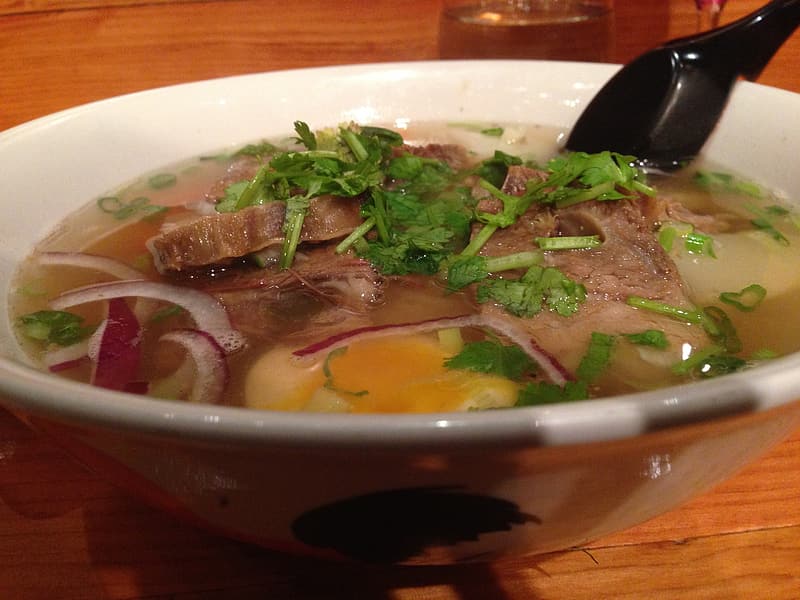 This is a frugal, simple dish, which is simply vegetable soup with some pork skin. The bowl of soup is shared by family members.
The soup includes a variety of different veggies, such as carrots, broccoli and peas. Sometimes, there are also mushrooms, shrimp and meatballs added to the soup.
The soup is sometimes sweetened, and bones are added. The soup can be prepared with different ingredients, but it is always made with pork skin, which imparts a special flavor and also has a special texture.
Five-fruit tray (Mam Ngu Qua)
This tray with five fruits is often used as an offering to ancestors on Tet. The type of fruit varies – it depends on the time of the year, geographical position, local preferences and sometimes, even on the preference of the homeowner. However, there is one condition – all fruits must be of a different color in order to be a decoration.
Popular choices for the fruit tray are pomelo, banana, orange, green apples and pears. That is in North Vietnam, but in South Vietnam, people vote in favor of papaya, pineapples, mango, dragon fruit and watermelon.
Decorations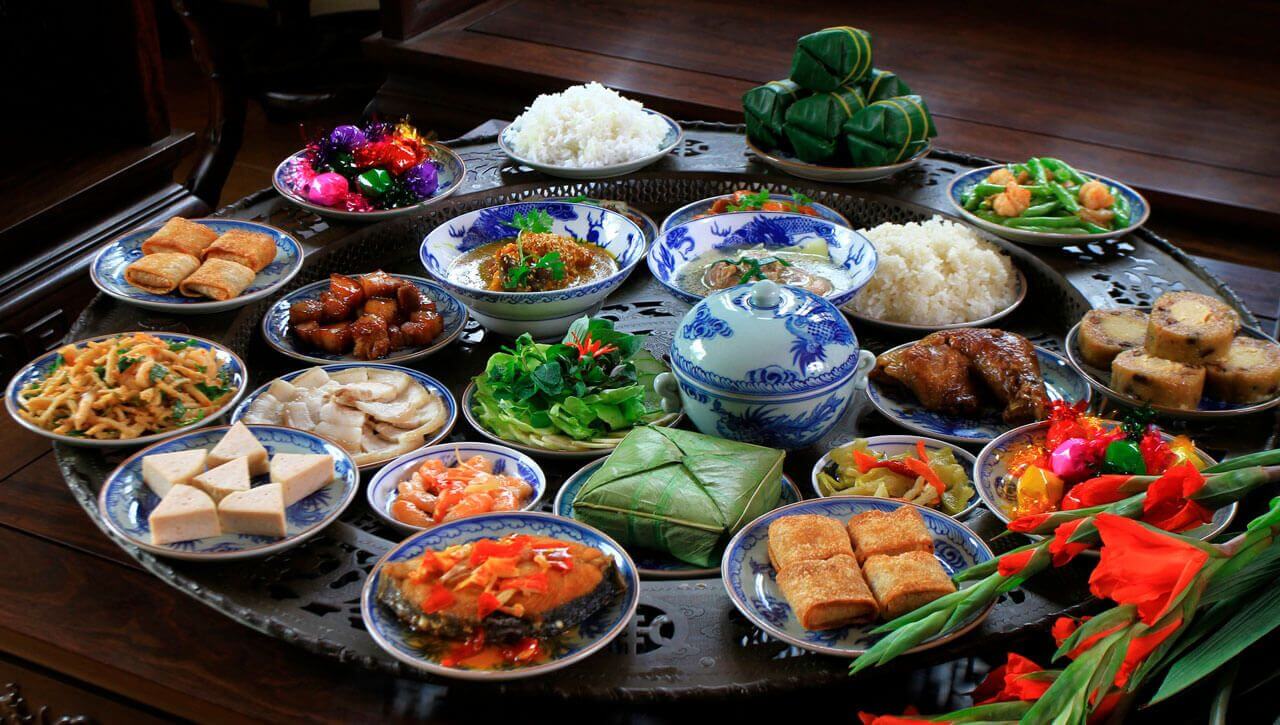 The most common decorations for Tet are flowers. Cherry blossoms and peach flowers are often used, as well as flowers from the cumquat tree. No less popular is the chrysanthemum flower that is often grown exactly for this purpose.
Another common flower used for decoration is narcissus.
The plate of five fruits, which you saw in the food section, is also valued as one of the most common decorations for Tet. As all the fruits are different in color, the dish does look nice, and indeed is a good decoration for a kitchen table.
The red envelopes that people use to send around lucky money are also used as decorations, and people may hang them on trees in front of their houses. Also, red banners with calligraphy will be hung on the walls of some houses.
How To Travel During Tet
Note that travel will actually be simpler during Tet, as many of the local people will be partying at home. Therefore, there will not be as many traffic jams as usual, and, most importantly, there will be fewer motorcyclists in the street.
The worst days to travel are two or three days into the celebration. This is after everybody has finished celebrating with their family, and people start visiting relatives and friends. Unless you have your own car or motorbike, try to stay home during this time.
Also note that most tourist attractions will close the day before Tet starts and will not reopen until a few days after. The same is true for most businesses and many restaurants. Instead, the restaurants will move their business outdoors and sell food in the streets.
If you are going to travel to a specific location to celebrate Tet, then do your traveling before the party starts because all transportation will be overcrowded and will not run on time. During Tet, you should preferably travel by foot because that will give you a great experience of the city during Tet. Try to share in people's happiness and take part in activities like Li Xi and others.
Airports during Tet will also be overflowing with people, especially the airports for travel inside the country. Again, try to finish all traveling before Tet begins.
How to Say Happy New Year in Vietnamese
The most common expression for wishing happy New Year is Chúc mừng năm mới. But there are tens of other ways to say the same thing, and you may also wish someone health and prosperity by saying "An khang thịnh vượng." By saying "Sống lâu trăm tuổi," you wish someone to live for 100 years. To wish someone a new year with a lot of new money, you say "Năm mới cát tường."