Golden Bridge Travel Guide – A Famous Project from Sun World Ba Na Hills
One of the most interesting tourist attractions near Danang City is the Golden Bridge, also known as the Giant Hands Bridge. It was first unveiled in 2018 and since then has been attracting tourists from all over the world. This bridge is part of the Sun World amusement park, which also includes the world's longest cable car ride, and many other attractions.
Built in 2018, the Golden Bridge has been attracting thousands of people every year. It has been designed to increase the tourist flow to the Sun World theme park.
What is the Golden Bridge?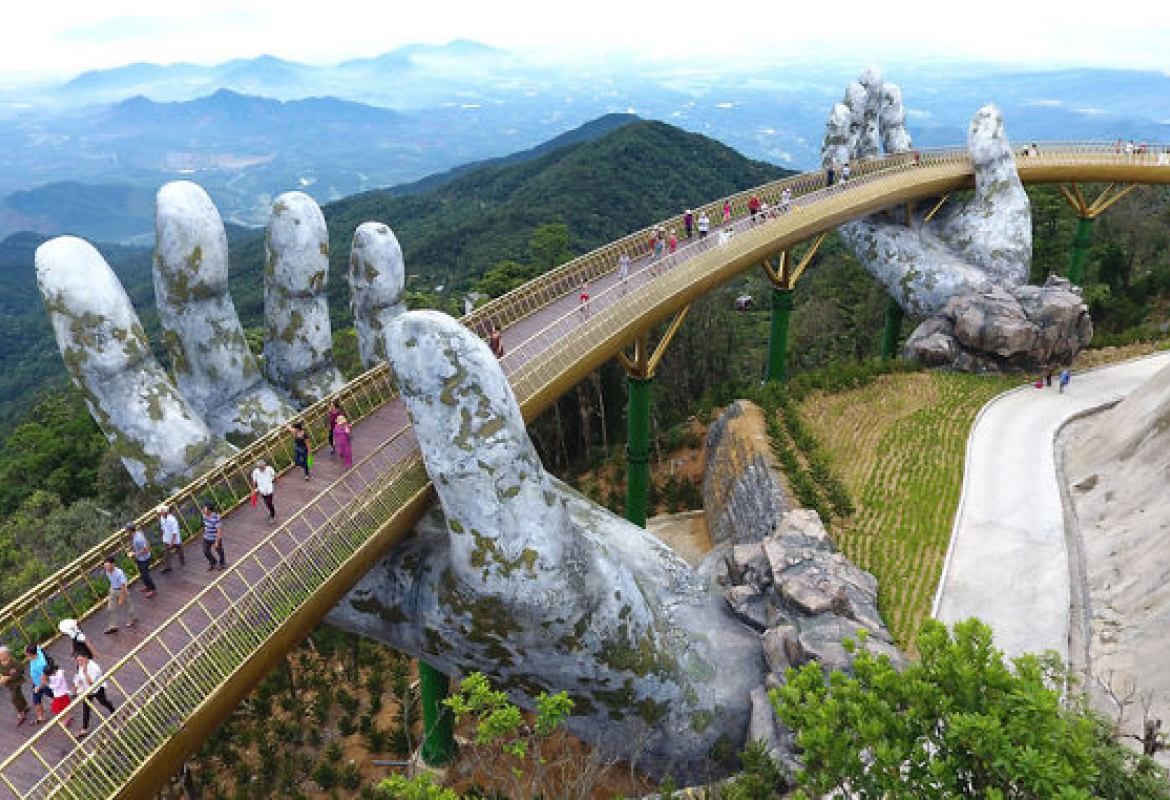 The Golden Bridge is 150 meters long and is a structure made of timber with stainless steel supports. You walk on a deck made of polished wood, while the steel railings are painted gold.
Features
The bridge is supported on powerful steel struts that are also pretty thin and look insignificant. Instead, from a distance, it seems like the bridge is being held up by two stone hands. The hands are huge and look like they're made of stone and covered with moss. They look like ancient constructions, but  have only been recently built,  made from fiberglass with a stainless steel skeleton,and the hands are lighter than they seem.
Overall, the bridge is a beautiful construction and is breathtaking to witness, so it attracts a huge number of visitors yearly and is becoming even more popular now.
Brief History
Ba Na Hills resort was officially registered as a resort by French colonists, who named it in 1919. Since then, it has been popular with  tourists, and in 2017, it was decided to add a new attraction there – a bridge, which some of the world's best architects began planning.
They came up with this unique design of God's hands holding a golden string, which  was supposed to be what the bridge symbolizes.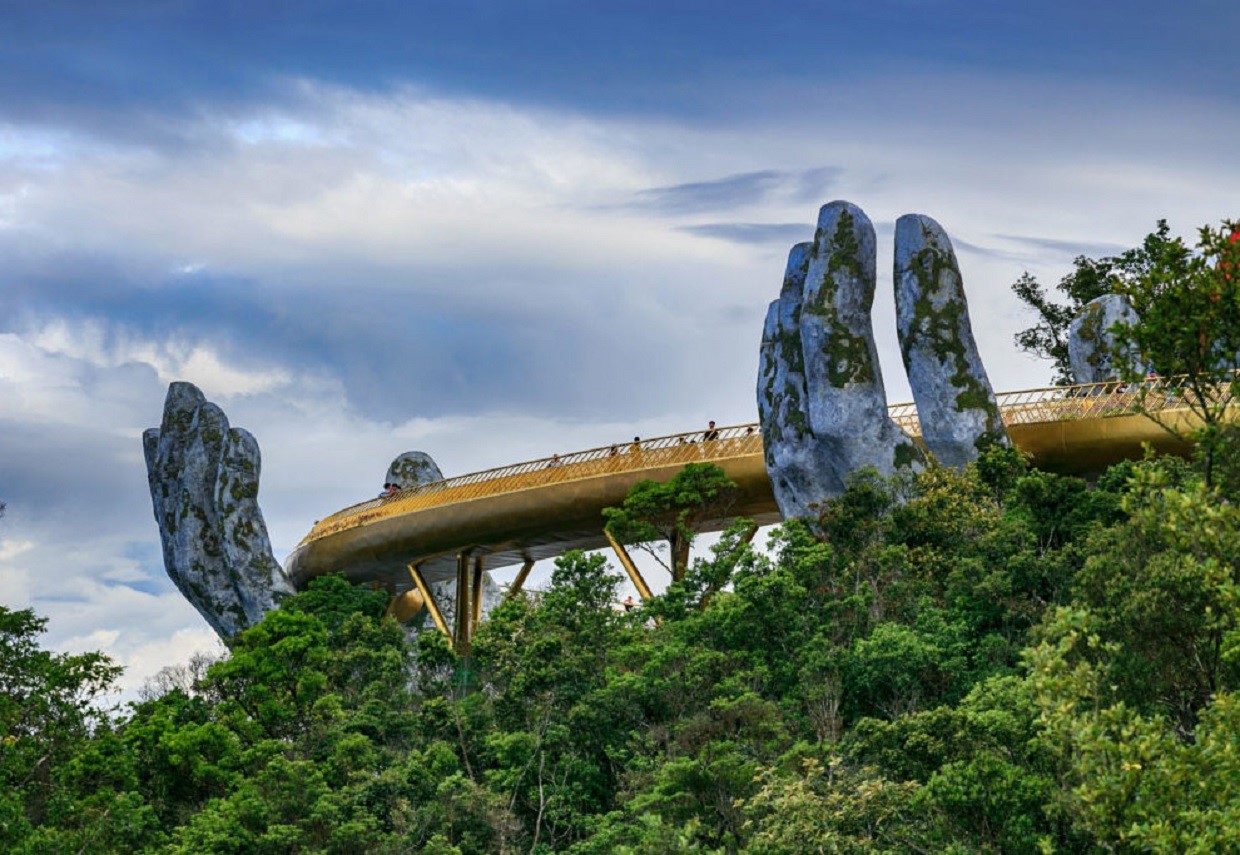 The bridge is so wildly successful as a tourist attraction that the designers are now planning to build a silver-themed brother for this bridge, which will look similar, except that it will be silver-colored.
Why it's Famous
This bridge is famous for having such a unique design. It is also one of the newest additions to the park, and even people who have visited Ba Na before might want to return to see it again.
The bridge is also a great vantage point from which you can see the surrounding landscape, and many people visit it just to get a great view of the nearby city and other interesting places.
The bridge's materials were carefully selected to make it seem as if the bridge and the hands holding it up are ancient and are from the deep past. This gives it a very interesting look, and people come to take pictures and selfies there. The bridge is 13 meters wide, and a lot of people can fit on it, even on the busiest days.
Where is it Located?
The Ba Na Hills resort is located 40 kilometers off the side of Da Nang. It usually takes 40-50 minutes to drive there from the city.
How to Get to the Golden Bridge?
There are many ways to get to the bridge, as it is a popular attraction. Let's review the most popular routes.
Shuttle bus
The shuttle bus is the cheapest way to get there, and it takes about two hours to drive to Ba Na hills from the city hotel.
Rental vehicles
This method is popular throughout Vietnam and is often used to get around the country. The benefit of this is that you can go wherever you want, provided you pay on time.
Taxi
There are many taxi businesses in Vietnam that will be willing to take you over to Ba Na. However, most of them will blatantly rip you off, especially if you are not acquainted with the prices.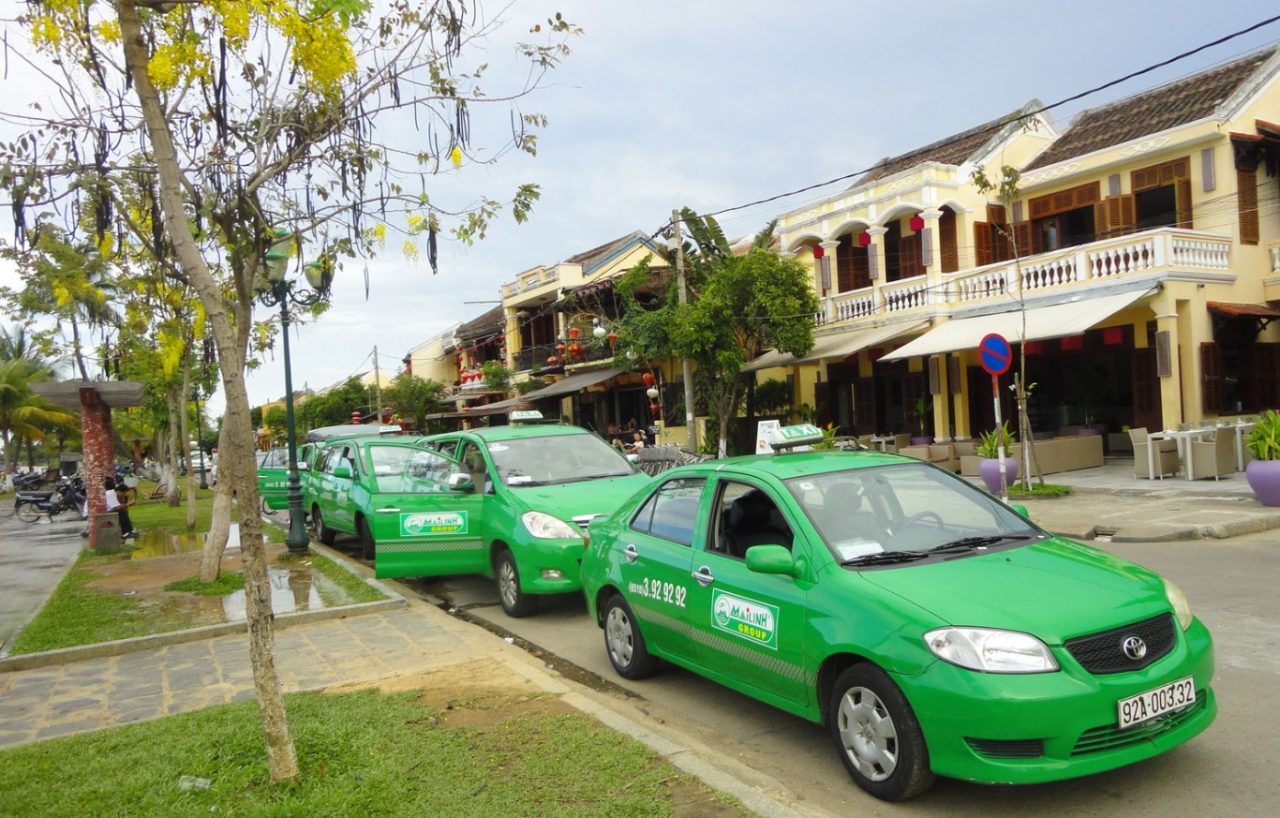 For that reason, it is best only to use trusted companies, such as Vinasun and Mai Linh.
Motorbike
That is probably the easiest way. You can rent a bike near the hotels. There is always a store of them available, and you can pick one up for a small fee. Use this method if you are good at driving a bike and do not want to overpay for the trip.
Fee/entrance tickets
As for all attractions, you have to buy tickets. Tickets can be bought both online and in special ticket booths.
Booths
There are multiple kiosks at the entrance to the theme park, where you may buy the tickets. However, now that the bridge has become popular, it is overcrowded with tourists that wish to buy tickets. Therefore, it is recommended to purchase your tickets ahead of time.
You can do this online on the Sun World site.
Online
The tickets may be booked beforehand on this site: https://ticket.sunworld.vn/. You may buy them for a future time so that you will have them ready by the time you get to the Golden Bridge.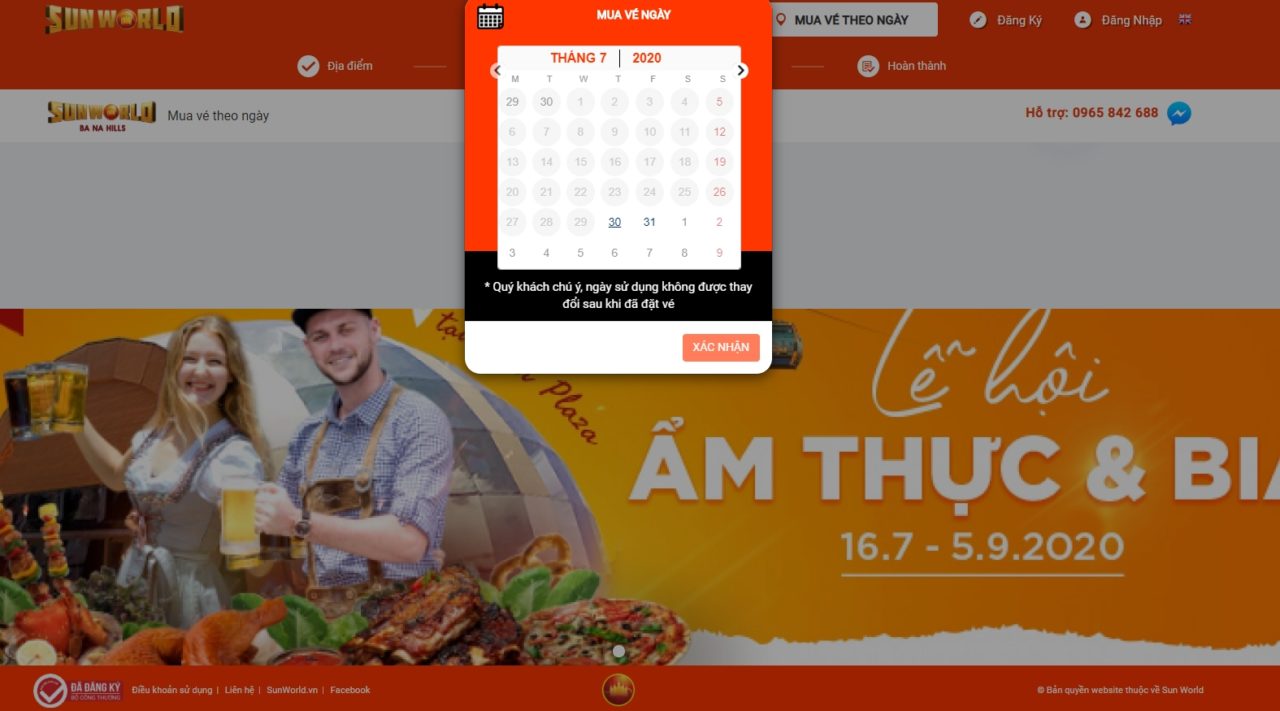 Price
The tickets cost 700,000 VND per visitor. However, 600,000 VND is paid for children who are under 1.4 meters tall. Children who are shorter than 1 meter may enter for free.
If you intend on additionally visiting the wax museum, which is located nearby and is a part of the same attraction, you have to pay 100,000 VND extra for each visitor.
Best Time to Visit the Sight
The park is open daily from 7:00 a.m. to 22:00 p.m. in the evening. It is hard to say if there is a special time to visit the park because it looks scenic at any time of the day – pictures taken on sunny days are no worse than those on foggy days. The number of visitors is slightly smaller in the morning so that makes the morning a better time for visiting.
Things to do Nearby
The park has many interesting attractions to offer, and even though the Golden Bridge is the most popular attraction, there are a few other places that are also worth visiting, including the Fantasy Park, the French Village, and the Wine cellar.
Ba Na Hills Cable car
The amusement park is reached through a cable car system that is 5 km long. This lets you take many excellent views of the surrounding landscape. Many awesome shots of the Golden Bridge hands are taken from the glass of the cable cars.
This cable car ride is officially the world's longest cable car ride, and its length makes it also one of the most spectacular.
The cars move pretty fast, and many people initially feel very frightened by the movement up, so be prepared to experience a fear of heights. Even people who have done this before may experience fear. However, once you become accustomed to it, you can take many spectacular shots of the cliffs and forests in the distance.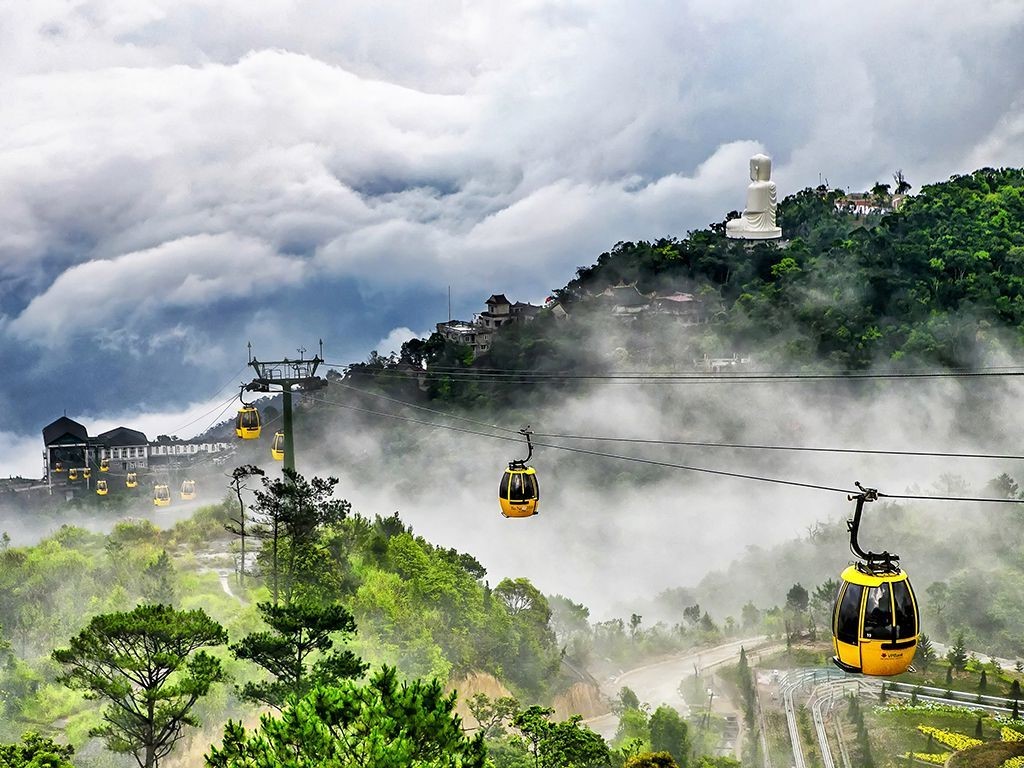 The French Village
This attraction features an entire colonial-time French village. This goes back to the origins of this park – it was founded back in 1919 by French colonists. After the French left, the park developers left this as a nod back to them.
The French village has everything that a real colonial village had – a church, cottages and large buildings with steeples. In fact, the replication is so realistic that you travel back in time, quite literally.
There is also a wine cellar that stays at a stable temperature and is used to preserve real wine. It is related to the French village and is the exact type that was used to store wine at that time.
Even though this is not an exact replica of a French village, it is exactly what people imagine when they think of one.
Nearby is the Le Jardin D'Amour Flower Garden, where you can see hundreds of different plants. Some of the world's most beautiful and unusual plants are cultivated here, and you should not leave the park unless you have seen the garden.
Fantasy park
This is a large entertainment park that is the ideal place to take your whole family. This too is designed with a taste of French – it is fashioned around two novels – "Journey to The Center of The Earth" and "Twenty Thousand Leagues Under the Sea," written by Jules Verne. However, the area has many different attractions, such as a 5D cinema and a dinosaur park for kids.
Overall, there are over 90 registered activities, both for kids and grownups. All attractions at the park are free.
Linh Ung Pagoda
This is located at a height of 1500 meters above sea level, which is why you can stand there and look at clouds below you on certain days. The place is made even more beautiful by the Shakyamuni Buddha statue that sits at the edge of the cliff and looks towards the city below.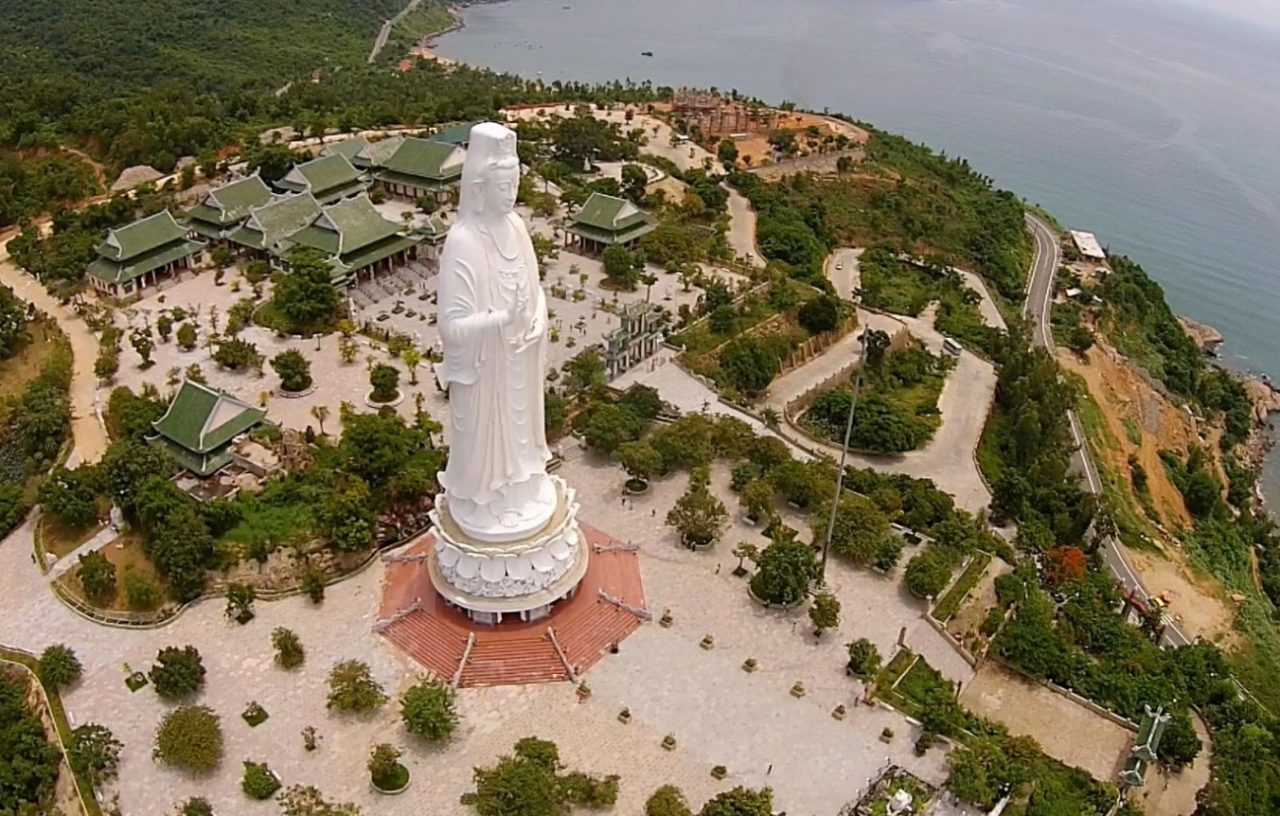 Wax Statue Museum
For a small extra fee, you will be able to enter the wax museum, which features lifelike and life-size statues of many historical personages, both real and from popular books and movies. The two most visited ones are Queen Elizabeth and Jack Sparrow.
As a matter of fact, this wax museum is the second most visited place at BA Na after the Golden Bridge.
Staying in Ba Na Hills
It is not unusual for people to stay here overnight in order to take pictures in the morning or simply to sleep in a calm and relaxing environment overnight. Actually, both sunrise and sunset are something to admire here.
There is sadly only one hotel here – the four-star Mercure Danang hotel, which is located in the French Village. The hotel is a great one, and it has many rooms. There is also a spa and a gym there.
The hotel offers great views and is wonderful to stay in, if you can afford the 139-dollar fee for two people.
Taking Photos
In fact, any place around this bridge offers awesome opportunities for taking photos, but there are some places that are even better. However, be prepared to take a number of photos because each may appear different, especially if you are taking pictures from a moving cable car.
If you hold the railing next to the entrance from the cable car, you will be able to snap both hands in one picture.
You may also take great pictures standing next to the flower garden on the other side of the bridge. However, due to the bridge's popularity, this spot will probably have a long line of visitors wanting to do the same thing, and you may have difficulties taking a good picture here.
Many people would like to take an aerial shot, but airborne drones are officially banned from the theme park. However, that does not deter some people from taking aerials, and even though that is not advised, it does yield excellent shots.
Usually, people choose clear sunny days for taking pictures, but the hands actually look much more atmospheric when it is misty, so you should return on a cloudy day to take a special shot of them.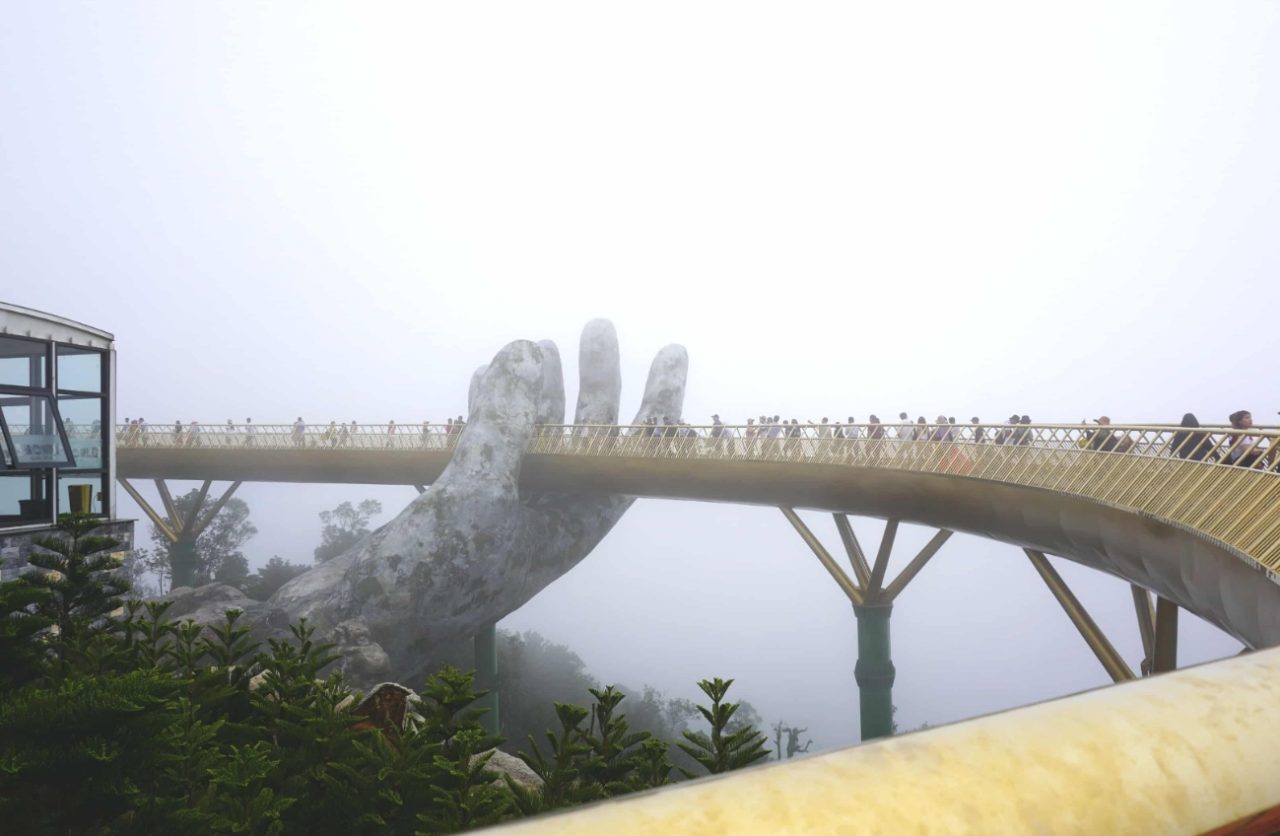 Frequently Asked Questions
Can you drive to the Golden Bridge?
Is the Golden Bridge worth it?
Who built the Golden Bridge?
Why was the Golden Bridge built?
How old is the Golden Bridge?
How long did it take to build the Golden Bridge?
How high is the Golden Bridge?