Cam Ranh Airport: Location, Airlines, Destinations and More
Cam Ranh International Airport is one of the largest in Vietnam, which is why it deserves so much attention. It has grown from 4 million visitors in 2013 to over 10 million in 2019, so it is the fourth-busiest airport. It serves a lot more international travelers than domestic travelers, so it is the route most tourists use when going to Vietnam. The airport offers routes to a wide array of Asian cities and many Chinese, Korean and Japanese cities. The airport is also connected to many cities in Russia, like Moscow, Saint Petersburg and others.
History
This airport was first founded as a US military base, where the air force was based. It was then called Cam Ranh Airbase. In 1972, this base was handed over to the Vietnamese government and in 1975, it was completely captured by North Vietnamese forces. A leasing treaty was then filed that allowed the Russian government to use the facility for the next 25 years, until 2002.
In 2004, the airport was largely rebuilt and refashioned to fit new standards and accept commercial trips from Hanoi and other large Vietnamese cities.
In 2007, the airport was upgraded again and n was rebuilt into an international airport; however, it only opened for international flights in 2009. Overall, 300 billion VND has been invested in this airport since it was built.
In 2018, a new terminal was added to the airport, International Terminal 2, which took 19 months to fully construct. The newly-built terminal nearly doubled the maximum capacity of the airport, making it possible to serve 10 million people yearly.
Today, over 80 flights go back and forth daily, and each day, up to 14,500 passengers arrive and depart. 21 international airlines use this airport today, and terminal 2 alone processes 5.2 million international passengers.
Ticket Price

[tp_in_our_city_fly_shortcodes destination=CXR title="Cheapest Tickets to Cam Ranh" limit=5 paginate=true stops=0 one_way=true subid="" currency="USD"]

The price for tickets largely depends on the location you are traveling to or from. However, the average price is lowest in April, when the tickets cost $690 on average. The most expensive month for this airport is July when tickets cost $1,200 on average.
Features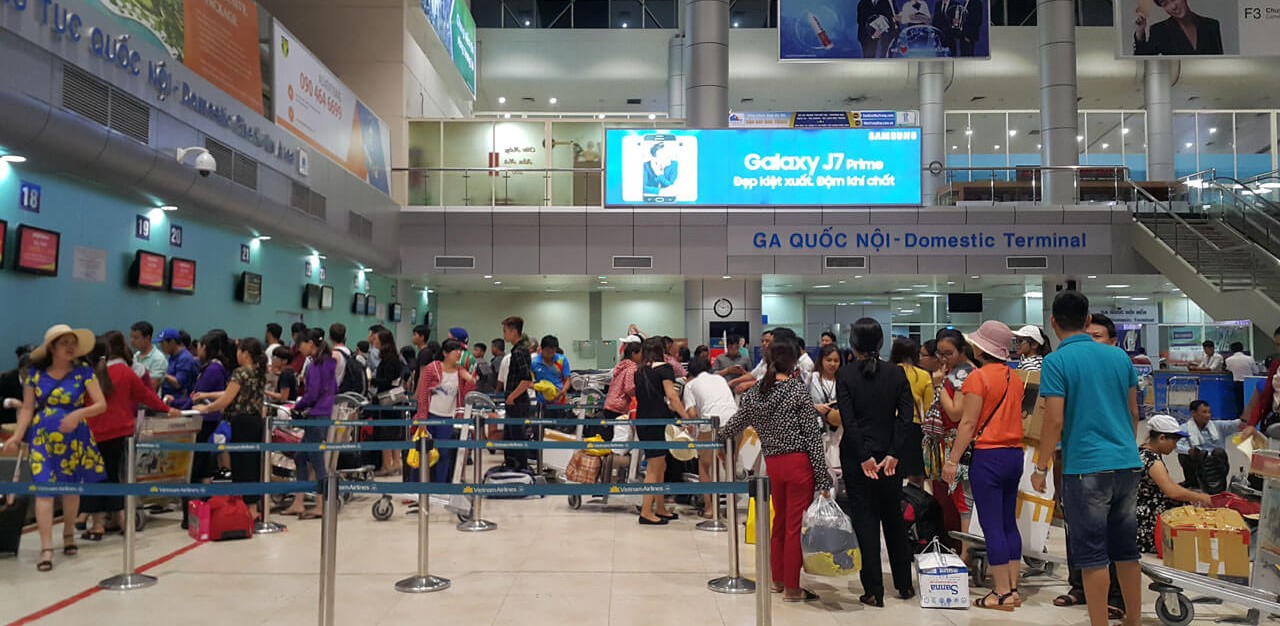 This is a fairly modern airport with all the needed necessities installed. We will review what comforts visitors will find.
WiFi/Internet
The entire airport has free access to Wi-Fi, so you can expect to always have free access to the Internet while you are at the airport.
Services (domestic and international services, charters, etc.)
There are many services available for anyone arriving at the airport, and you will have every necessity ready at any time. There are ATM machines, showers, sleeping places, lounges, and restaurants there. So you may expect a comfortable stay at the airport, even if you have to stay for a long time.
Facilities (ATM machines, food court, etc.)
The airport offers many comforts, ATM machines and places where you can exchange your currency to VND. The machines are open all day.
The airport began expanding its food courts in 2019, building 8 new food courts where people can relax and have a meal. Because of that, you will not have a problem finding something to eat. The food courts offer fast food and are also known for serving true Vietnamese cuisine. Also, there are two outlets of Costa Coffee, the favorite coffee brand for the UK.
Airport Lounges
There are three lounges in the airport, and all of them are comfortable places to stay at. Two of them also have showers.
None of the lounges have sleeping areas, so they are only fit for temporary living. People who decide to stay here for a while are advised to visit any of the local hotels that offer rooms with beds and baths.
Vietnam Airlines Lotus Lounge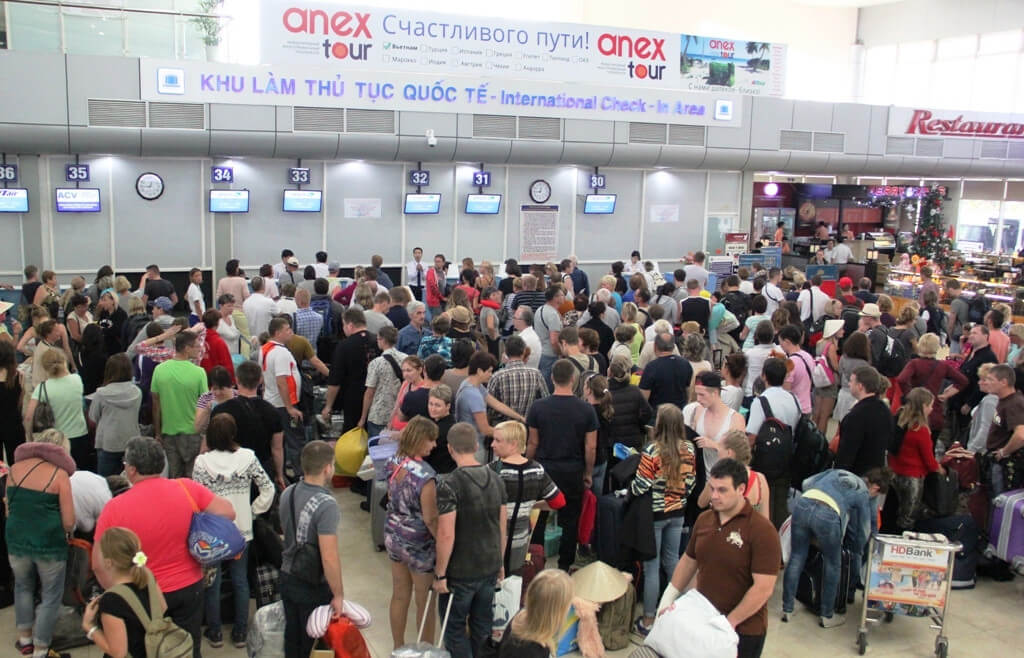 The lounge is for international flights only. It is located in the second terminal.
The air-conditioned lounge has Internet access and luggage storage. You also have access to a telephone and TV for free. The shower is also always open for visitors.
There are some other services available, like the shoe shining service and the beverage dispenser, where you can order both non-alcoholic and alcoholic beverages.
There is a separate room for smoking.
Sun Coast Lounge
Also located in the second terminal, this lounge offers free access to the Internet and television, as well as showers for all visitors. There is a place for luggage storage and a beverage dispenser with both alcoholic and alcohol-free beverages.
The Champ Lounge
This is the Economy class lounge that does not have a shower. There is a television and free Internet access available, as well as a beverage dispenser. This completes the modest design of this lounge.
This is the most basic lounge that the Economy class passengers are taken to.
How to Get to the City From the Airport

[tp_hotelmap_widget coordinates="11.921439, 109.159126″ width=500 height=200 zoom=10 subid=""]

The airport is connected to Nha Trang by road, and it takes only one hour to drive the 50 kilometer trip to Nha Trang if you use a taxi.
Airport Shuttle
Shuttles are just buses that travel faster and do not stop on the way. They are a bit more expensive than buses, but this comes with the benefit of traveling faster.
Taxi
As in most of Vietnam, a taxi is by far the most popular way to arrive anywhere, and the only thing you have to remember is to pick a better-known brand.
Most small brands will try to overcharge you for the trip, especially if they find out you are a foreigner.
The taxi to the airport from the city usually costs 10 dollars, and it can take around 45 minutes to get to the city.
City Bus
Buses are the cheapest and slowest kind of transport; however, they have the benefit of always safely getting to their destination.
The bus takes somewhat longer than the taxi – 60 minutes. However, it is much cheaper, because you only pay 2-3 dollars to rent a bus from Nha Trang to Ranh airport.
The best bus to use is Dat Moi, which is easy to spot because of its yellow and black color scheme.
Airport Hotels
There are a lot of hotels near the airport, as it is a busy place, and many people come and go. However, we will name the best three hotels that are really worth visiting.
This hotel is located in Nha Trang, and visitors rate it at 8.2 on average – which is a great rating for hotels. This one offers places to sleep, television, and Internet access in every room and breakfast in the morning. A restaurant operates in the hotel.

All the 131 rooms of this hotel offer you access to wireless Internet and cable TV with big screens.

[tp_hotel_widget hotel_id=1900765315 responsive=true subid="" powered_by="true"]
Golden Peak Resort&Spa

This hotel is located only three kilometers from the airport, and all of its rooms are fashioned as comfortable as they can get. There will be free Wi-Fi in all of them, free television and a spa center with a pool and massage baths.

The rooms all have air conditioning. Each room has its own bathtub and free high-quality cosmetics.

The attendants speak both English and Vietnamese and are ready to assist you in everything you do. Usually, they help people place their luggage in storage and give you a tour of the place so that you can see all the interesting things the hotel offers.

The hotel also has a number of souvenir stores that you can visit while you are staying.

The hotel has a restaurant of its own with its own unique dishes. Many dishes from Vietnamese cuisine are offered and also many international dishes.

[tp_hotel_widget hotel_id=1202564905 responsive=true subid="" powered_by="true"]
Swandor Hotel and Resorts

This is the best hotel which also bears the name of Cam Ranh Resort-Ultra All-Inclusive because it is able to cater to absolutely all kinds of customers, and hence has a rating of 8.4.

The resort-like hotel is located next to the Bai Dai beach, which is known for its very clean water and sand. This gives you the opportunity to spend the day on the beach. There is also a spa center and a restaurant in the hotel. The guests have free protected parking spaces. The rooms all have free Internet access through Wi-Fi.

The hotel is just five minutes driving from the Cam Ranh airport.

All the rooms have air conditioning and offer awesome views of the sea and city. The walls of the rooms are sound-isolated, so you will not hear sounds from other rooms and will be able to sleep in total quiet.

Each room has a bathroom with a bathtub and a shower. Guests have access to premium cosmetics and a hair drying fan.

The hotel has an excursion bureau that you can visit for personnel to give you an excursion of the place. The territory also has an area of 900 square meters, intended for small kids.. There is also a gym and a disco club there.

The restaurant is open all day and night, as well as the bar, which offers all sorts of drinks, both local and imported.

[tp_hotel_widget hotel_id=1862918306 responsive=true subid="" powered_by="true"]
FAQ
How many hotels are near the airport?
How far is the airport from Nha Trang city?
When is the airport open?
How many international lines use this airport?