Museum of Impressions in Nha Trang: Illusions, Inverted Room, Giant Stuff
Right in the center of Nha Trang, there is an unusual museum, which was opened just recently, but where more and more people come for new impressions every day.
The museum is permanently closed
The Interactive Museum of Impressions in Nha Trang is a relatively new landmark of the city. The complex was originally conceived as a museum of illusions, but over time turned into a full-fledged entertainment center for all. This attracts tourists of any age.
How to get there?
You can find this museum in Nha Trang quite easily. It is located in the center of the city, behind the old airport in the old Vietnamese building that immediately attracts attention.
Address: Bưu Đoa-10 (map)
Phone: +84 165 232 3028
Facebook group: https://www.facebook.com/ImpressionsMuseum/
Ticket price: 150 000 adult / 75 children
The museum is located in the city center, you can walk to it or take a Grab taxi.
The advantage of the museum location is a short distance to the nearest public transport stops in Nha Trang. So, if you wish, you can get there by regular bus. We already wrote about buses in Nha Trang here.
How to get to the museum
It is impossible to miss the "avenue of desires" just in front of the museum, consisting of a set of colored ribbons. In the same place, you are met by English-speaking employees offering to choose any ribbon, write your wish on it and hang it in the alley.
The inner courtyard of the house is decorated with a bridge with dragons and a pond with inhabitants. Also there is a small contact zoo, where animals are allowed to take on their hands.
The architecture of the building and the surrounding area are interesting in their own right, but for real impressions, you should go inside.
The main objects of the Museum of impressions are, of course, its interactive exhibits. Interactivity lies in the fact that visitors need to interact with each of them: to touch them, stand on them, play with them, be photographed against their background, and so on.
Yes, you must have a camera with you! He can be said to be one of the main tools for getting impressions in this museum.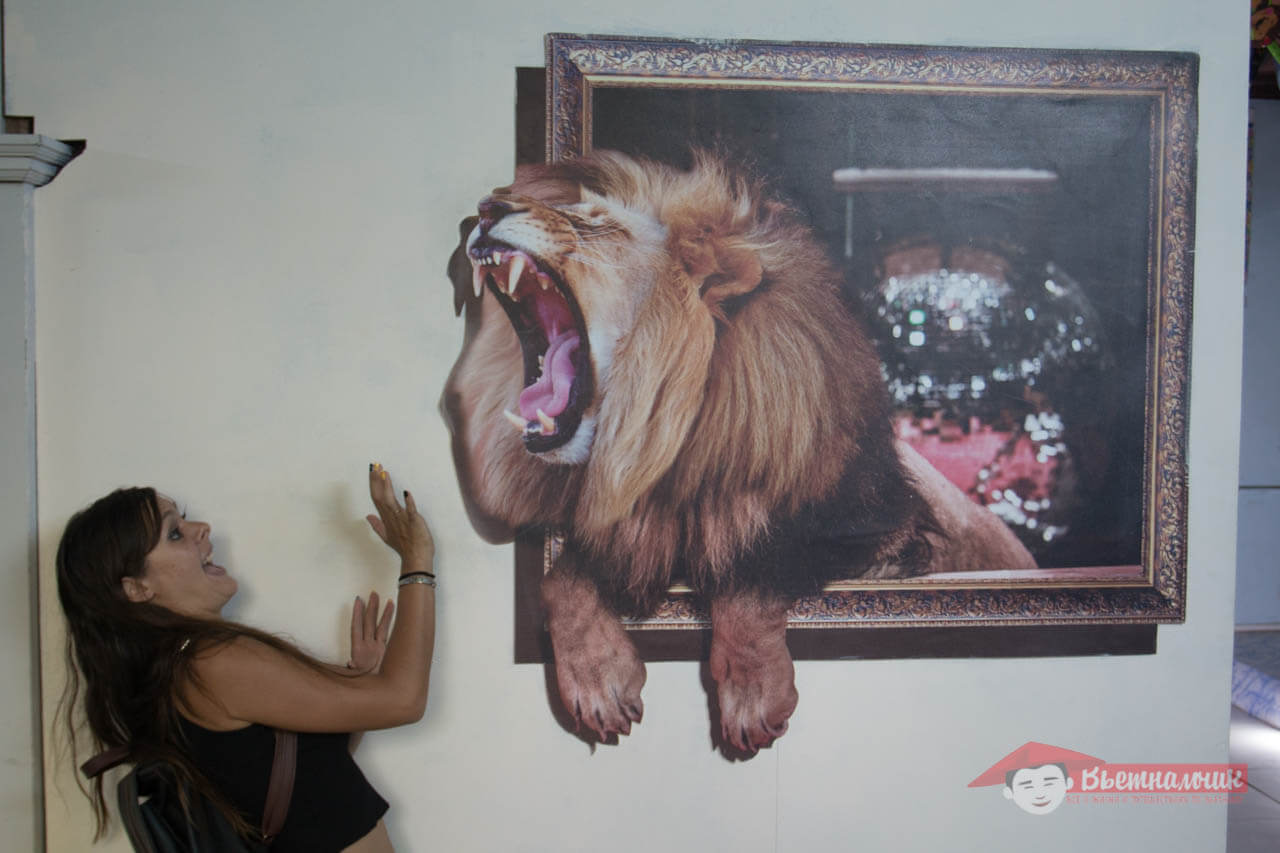 Studying the exhibits
So, inside the museum you can:
to visit the dwelling of the giant;
feel like a giant;
break the law of gravity and stroll along the ceiling;
to be part of numerous three-dimensional illusions;
just enjoy the variety of objects and attractions that inhabit the museum.
The house of the giant, as it is easy to guess, is furnished with lots of really big everyday things. Thanks to such a scale you will feel like a liliput. You can also see photos of giants who really lived in the past.
One of the most popular exhibits is the inverted room. Entering it, you are upside down on the ceiling. Although in fact here is nailed to the ceiling and turned upside down everything except you.
Besides, the house is filled with optical 3D illusions where the angle from which observation is made is crucial.
That is why it is important to go with someone and have a camera with you. Here you will find a room that increases and decreases people, and a funny mirror that combines the reflections of two people, and a stool with sawed legs, which is nevertheless worth it.
Children in the museum provided a separate room with LEGO-details and a huge table for the design.
A bit of criticism
Of course, traveling to a place, it is advisable to read the reviews of those who have already been there. There are a lot of reviews about the Museum of impressions in Nha Trang – both positive and criticizing.
Here is what visitors of the sightsee on TripAdvisor say:
"A pleasant place, a lot of good impressions and, most importantly, photos. Photos from the museum are unforgettable and original ";

"Very tasty food, pleasant table setting. And, of course, free transfer. Received positive impressions and good photos for memory.

Now for the sad: some of the museum's exhibits would really do well to update or simply wash and clean. "
Unfortunately, this is true. You should not expect from this excursion super-high quality, after all, a museum appeared relatively recently. Over time, the guys will surely bring all the rooms into the proper form (which we really hope for).
Conclusion
At the popular beach resort you can rarely surprise you with something besides the beach-sea facilities. Unfortunately, the "wow" effect did not work. Everything is quite interesting, if you do not pay attention to shabby walls and old inventory.
In general, the interactive Museum of impressions in Nha Trang is a good place to spend a couple of hours of free time.