Thap Ba Hot Springs: Relaxing Massage and Mud Baths
Vietnam is a paradise for tourists. Extremely warm climate, sun, sea, mountains. Friendly and friendly people. And there is healing mud. What is the usual association of the word "dirt"? Most often the most unpleasant. I want to remove the dirt so that everything is clean. And if it is medical? Which is good for your health? After that, you feel completely peaceful, and your skin becomes silky and soft.
To smear mud, people come here from many countries around the world. For this, they even opened a special sanatorium with baths and pools. Here you can relax and for a while forget about all the troubles of life. So, welcome, the Thap Ba mud bath in Nha Trang is a place where you can put your body and mind in order.
To get to Thap Ba, you will have to take a taxi or rent a motorbike.
How to get there
It is a bit difficult – public transport does not go to mud baths. The easiest way – take a taxi. The fee will be about $ 5 (100 000 – 120 000 dong).
It can be easier and cheaper – by public transport to get to Cham towers and already from there – by taxi. The price will be about $ 1.5.
Extreme lovers can rent a bike. Only this is inconvenient after a mud therapy session you always feel strong relaxation and drowsiness, and while driving a bike you'll need to concentrate which can be a bit difficult.
A special shuttle, organized by the place itself, will take you from the mud baths to the city center. Its cost is 1.5 dollars.
Hotels usually also offer a tour to Thap Ba, which includes the cost of entrance tickets. After visiting Thap Ba, the company will take you back to the hotel.
Price List
Here is the price list for Thap Ba Mud Bath's entrance:
The cost of the visit depends on which package of services you choose.
Children under 6 years old are free, up to 12 years old – the price of the ticket is twice lower. This does not apply to VIP rooms.
A Little Bit of History
This hospital is relatively new – hot springs in Nha Trang were discovered only in mid-1994. At first, they tried to use water for food and for irrigation of farmland. But the water for this was unsuitable – there were too many minerals in it. However, soon people began to notice that respiratory diseases pass quickly near their baths. Then we noticed that after bathing, their skin condition improves, and their overall well-being.
News of the mud baths quickly spread throughout the county and beyond. Scientists have conducted a study of water, found near large deposits of healing mud. After just a few years, a whole sanatorium complex was built around the baths, they landscaped the area. Now, this is a favorite vacation spot for citizens and tourists, who often come to this part of Vietnam for a hot spring.
Being here is especially cool in the rainy season, when on the coast storm and wind. Here it is always quiet. Even in winter, pleasant warmth emanates from the springs, and mud baths pleasantly relax and warm.
Mud Baths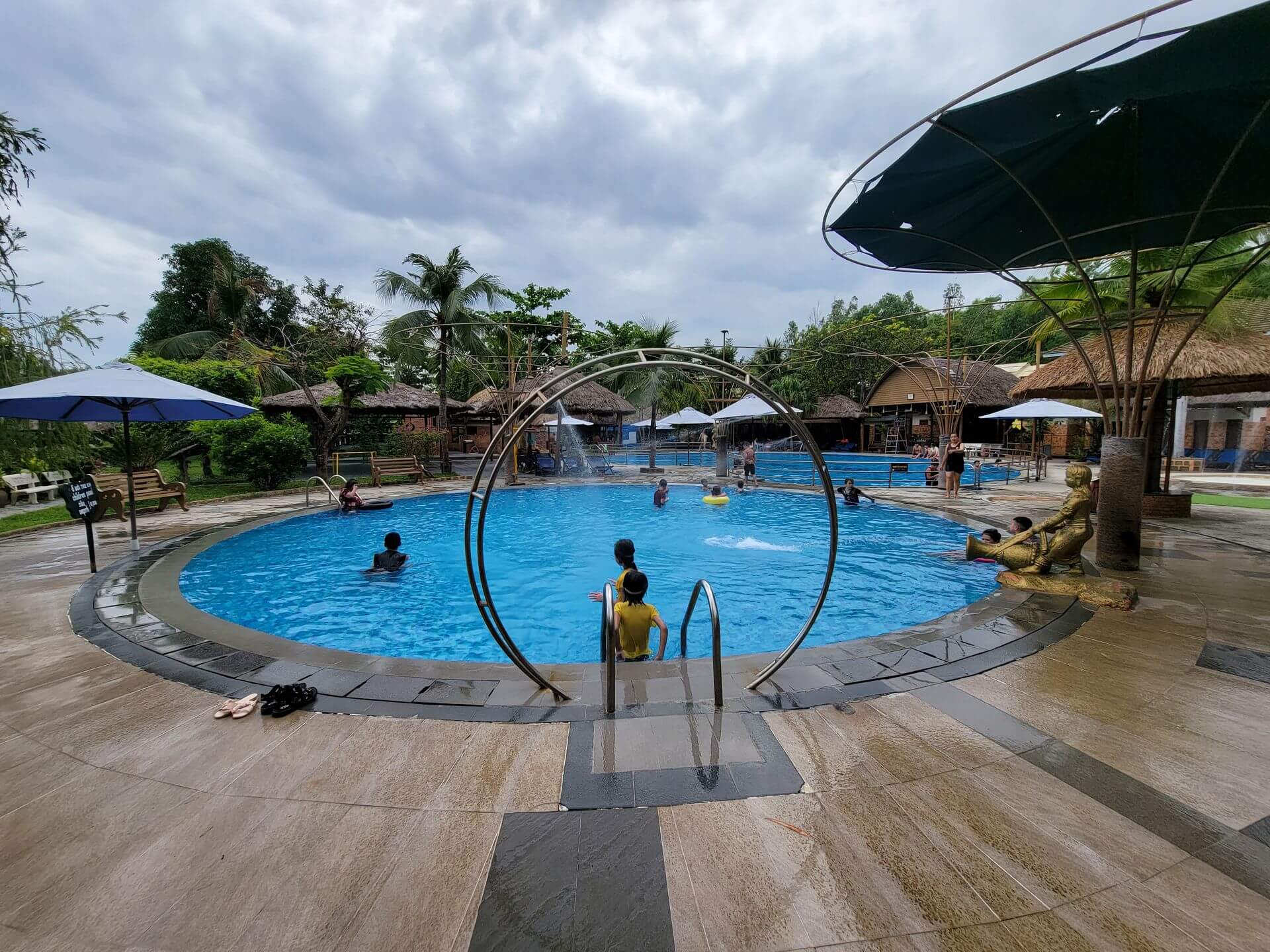 Upon entering the territory you will see a small altar with the Buddha. As elsewhere in Vietnam, it is set up in accordance with all the laws of feng shui – to attract good luck and prosperity of the business.
The territory of the hospital is quite small, but it is skillfully equipped. Water is supplied to mineral springs from a depth of more than 100 meters, its temperature never drops below 40 degrees. Approximately the same temperature and dirt – about 38 degrees.
Services
For visitors, there is a large, equipped recreation area, with pools, fountains, and all necessary infrastructure. You can use the sun beds by the pools all day for free.
When you visit you buy different packages of services – with access to mineral springs and mud baths. There are also simple, the cheapest – they allow you to visit the pool, waterfalls and just walk around the area.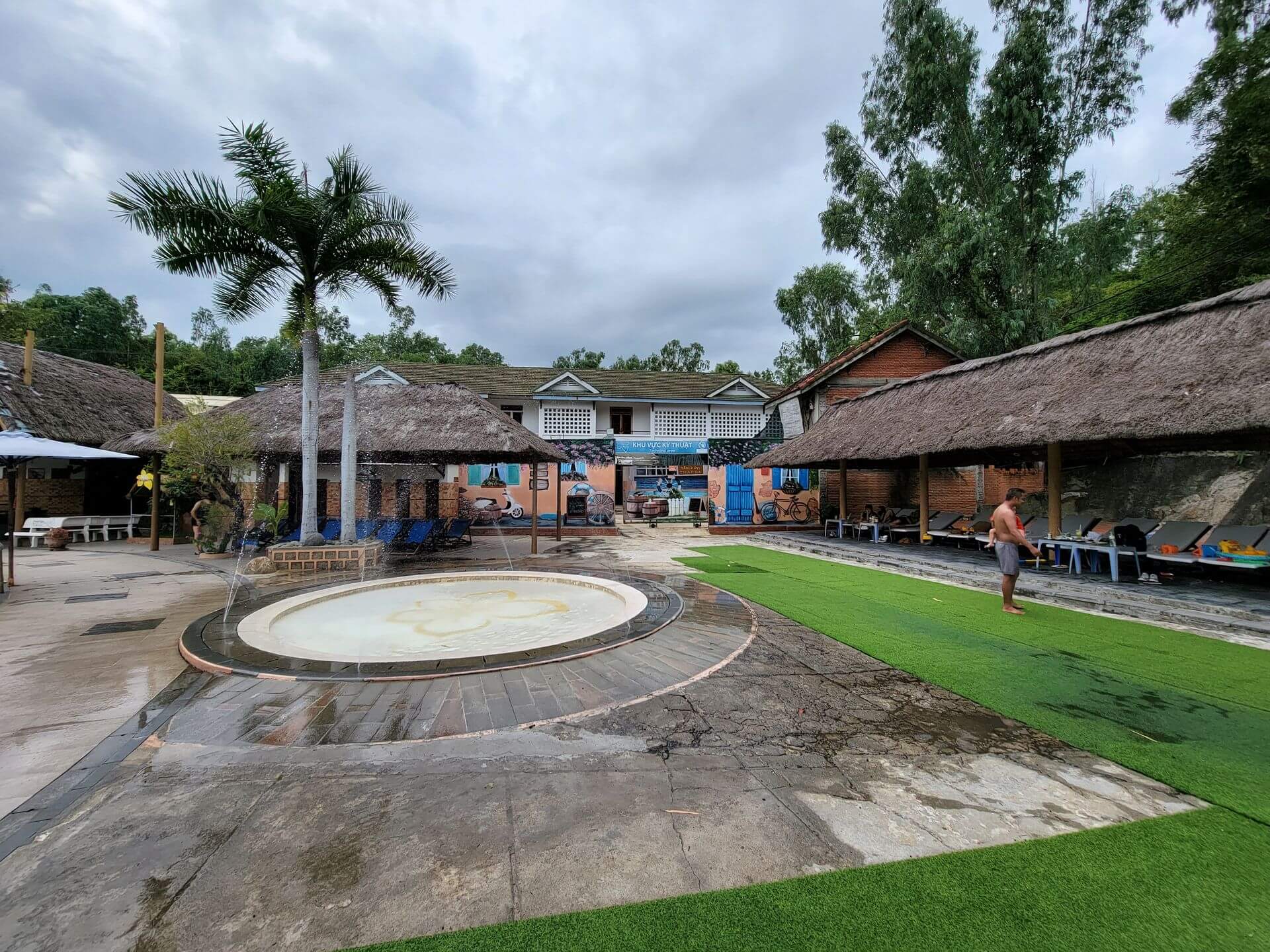 The price of packages depends on what you are going to use. It should be clarified since it often depends on the dollar.
The main composition of water is bicarbonate, potassium, magnesium, and silicon.
A visit to the mineral and mud baths is charged separately.
You are provided with a locker in the common dressing room, its number is written on the key, which is issued when buying a package. You can stay in the complex for a maximum of three hours. Valuables are allowed to leave the administrator in the luggage storage, it does not require additional payment.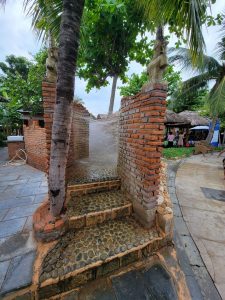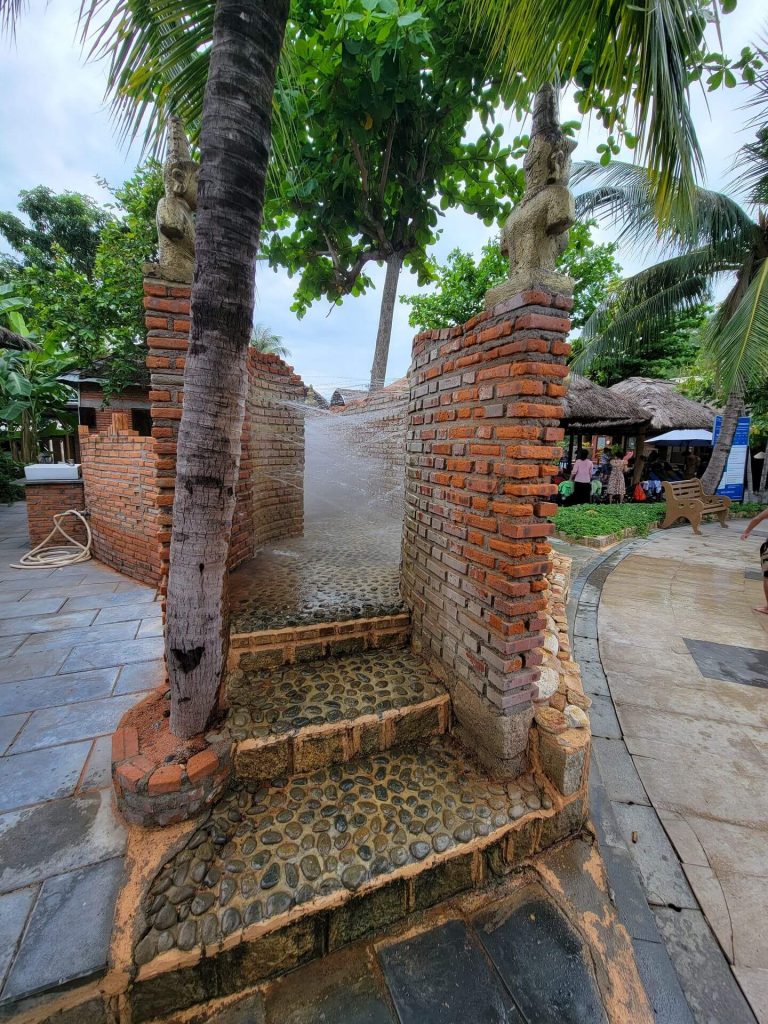 Pools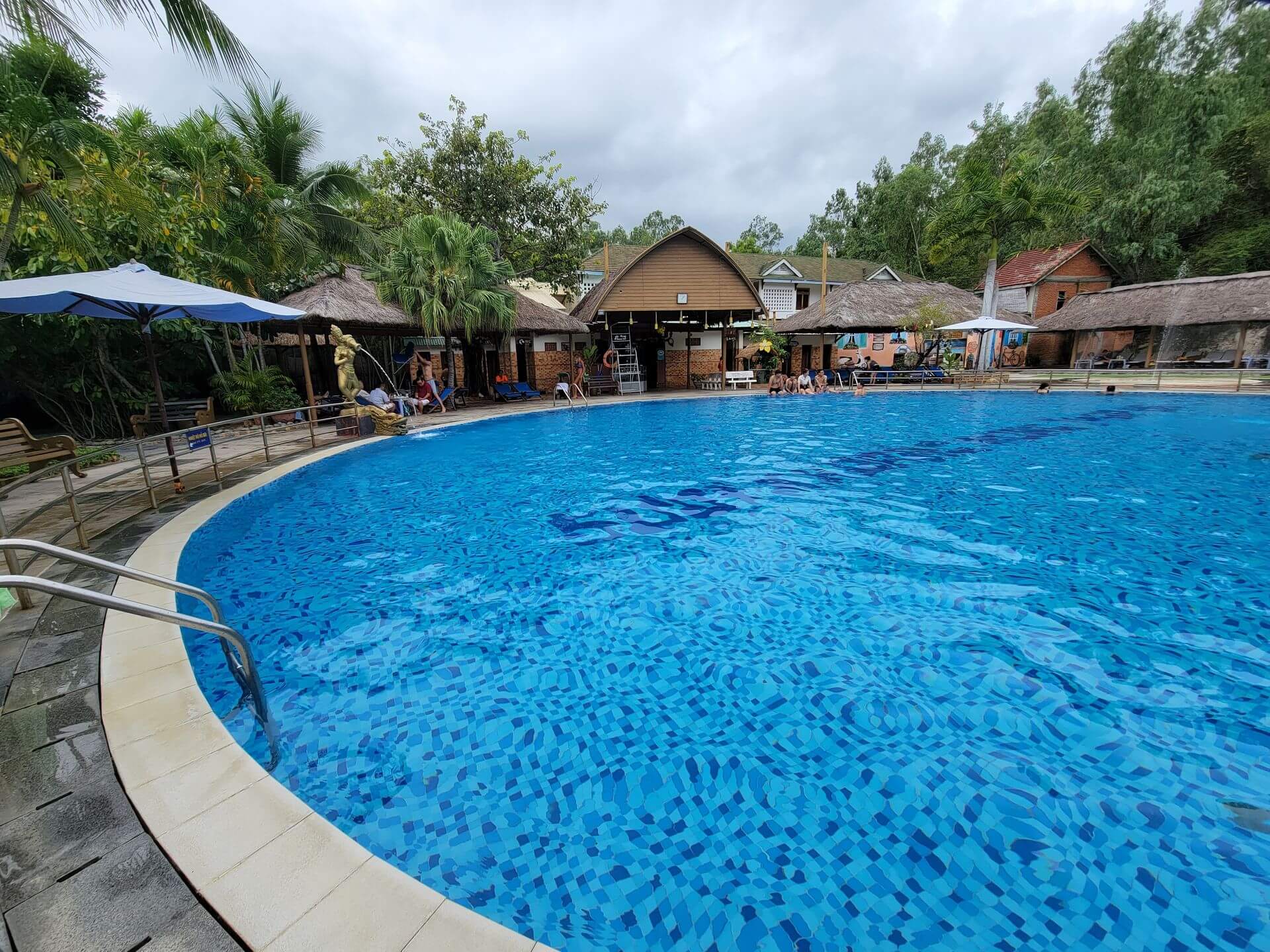 Thap Ba has several common pools with mineral water. One of them is warm, in the other water is specially cooled. There is a shallow pool for children – with small safe slides and fun.
There are also individual pools, but they must be pre-ordered. After each visit, they are drained, washed, and refilled for the next visitor. So there is such a pleasure more expensive than the general pool.
The price of the visit may vary, so it is better to clarify the official site of the mud baths.
Also not recommended for a long stay in the water.
Mud baths
As well as pools, baths are common and individual. In general, can simultaneously fit 6 people. Individual – for one. Stay in the bath – no more than 30 minutes. For those who have purchased a ticket to a mud bath for a holiday in Nha Trang, a towel and a small bottle of mineral water are issued. This is included in the ticket price.
Additional services
In addition to mud and baths, you can take a shower at Charcot. Also here they make a special relaxing massage. On the territory of a sauna, there is a beauty salon. It is also allowed to take photos and videos of your holiday.
VIP room
The mud baths in the city of Nha Trang also provide an exclusive rest in the VIP hall, a separate building. In it, you buy a ticket for about $ 100-120, which includes the full package of services. If you buy such a package for two, then the cost will be much lower.
The minimum time spent in the VIP room is 3 hours, and the maximum is 12 hours.
VIP rooms are beautifully decorated, they have spacious and clean marble baths, and lots of greenery, and flowers. For each visitor, rooms are specially prepared.
There are 14 rooms in the SPA, and 28 people can be served at the same time. The rooms are not communicating with each other, they have excellent sound insulation. Also, visitors can independently regulate the temperature of water and dirt, but it will not rise above the permissible 40 degrees. To buy such a package, you must pre-select the time and register on the site.
There is also an "improved" VIP package.
The package also includes a preliminary medical examination. You may be denied a visit if your health condition does not allow you to stay in a hot spring.
Indications and Contraindications
The use of mud for health is, of course, beneficial. They are hot, and while the pores of the skin expand, the body through them is saturated with useful trace elements. A healthy person to be here is a must, you can get a lot of fun. However, it is especially useful to come here when there are long-standing health problems – with nervous over-stimulation, chronic pneumonia, and psoriasis. The mineral spring is also useful for people with muscle pain, and with problems of the musculoskeletal system.
It should also be borne in mind that dirt has a strong effect on the nervous system. The maximum result they bring is when they are on the skin for 25-30 minutes. Further contact has the opposite effect, there will be no benefit.
A single intake of thermal baths is useful, but you will not feel much impact. We must take their course at least from 5-7 procedures.
Lovers of smooth and deep tan should be careful – the local dirt whitens the skin. In Vietnam and China, the whiteness of the skin is a cult, so do not be surprised to meet a large number of Chinese at Thap Ba.
Contraindications
Although the hospital claims that its dirt has no contraindications, there are still some.
Reduce your time at the mud bath if you have:
peptic ulcer, gastritis
thyroid disease
pregnancy
hemophilia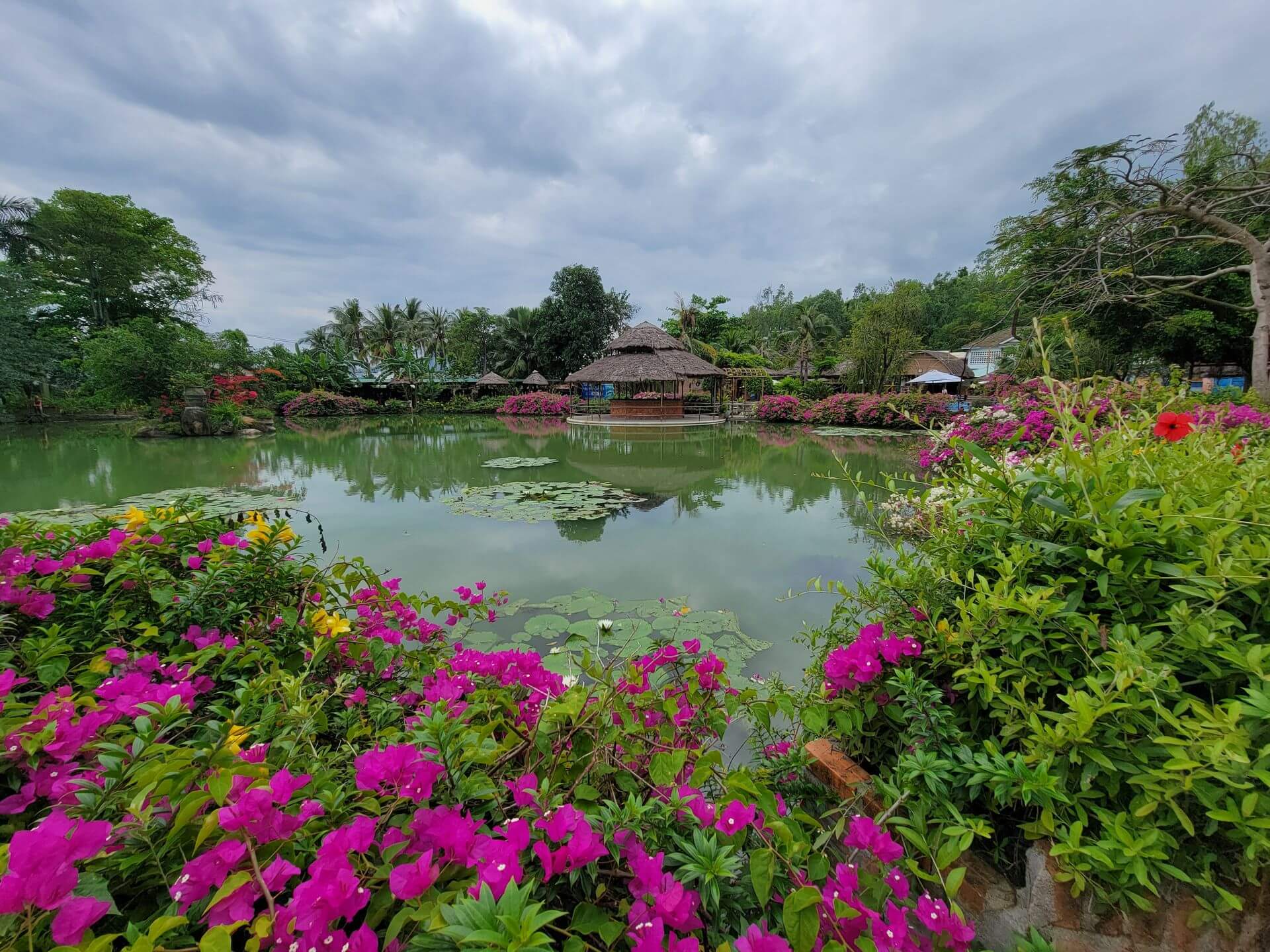 Temporary contraindications
exacerbation of chronic diseases
acute infectious diseases
fever
critical days for women
skin diseases
It is also not recommended to be in the mud bath for people after drinking, even very light.
Absolute contraindications
any oncology – being in a hot spring can provoke an exacerbation of the disease
cardiac diseases – angina pectoris, arrhythmia, hypertension
tuberculosis
Also at the discretion of parents – children under three years of age.
However, you can be near the bath and breathe it in pairs for any amount of time.
Some tips before visiting
The place is very popular, there are always a lot of tourists. Therefore, it is better to come here on a weekday, and optimally – if the weather is cloudy or rainy. You should also choose the morning hours when there are much fewer visitors. Bring a bathing suit and always rubber slippers for hygiene purposes.
Do not jump into the pool upside down – there is a shallow, and you can get hurt.
That's all!
We hope you will have a great time and feel rested and rejuvenated.